Sponsored Content
My Bedding Just Glowed-Up Big Time
A few months ago, I finally decided it was time to invest in quality "grown-up" pieces for my apartment—starting with my bedding. But, as someone who's always just bought the cheapest options at Bed Bath & Beyond, I had no clue what to look for.
In my research, one brand kept showing up time and time again: Buffy. Fast Company, USA Today, The Strategist, The New Yorker…it seemed like everyone had something to say about their dangerously soft, cloud-like, and sustainably-made comforters.
With all this hype, how could I not try the brand that won awards from Architectural Digest and Good Housekeeping this year? Buffy has a 100-day return policy, so I figured there was no reason not to.
Editor's Note: Buffy's Cyber Monday Extended Sale is on. All of their silky soft bedding is up to 40% OFF, but not for long. You can thank me later. 😉
Buffy Breeze vs. Cloud-Like Comfort
While Buffy offers a full line of luxurious bedding, they're best known for their comforters—so that's what I tested out first.
However, when I went to order, I was torn between the Breeze Comforter and the Cloud Comforter. Both feature Buffy's signature eucalyptus-based fabric, but the difference is in the details.
I spent a lot of time comparing the two options, so I figured I would just lay it out in a neat little chart to make it easy for you all:
As you can see, the two comforters have a lot in common when it comes to quality, sustainability, and comfort. The primary difference between the two is that the Breeze (as the name suggests) is airier, while the Cloud is more fluffy and cozy.
I decided to go with the Cloud Comforter since I'm not a hot sleeper and specifically wanted a comforter that feels like a big bear hug. Plus, it's machine washable, which is a game-changer.
Like Hotel Bedding, But Better
When my comforter arrived, it was love at first sight (and touch). Like, my jaw dropped. It was more silky sateen than the cotton texture I was expecting. Irresistibly soft. Exquisite details. Luxurious and high quality. Straight out of the box, I snuggled up under it and sank into a blissful cocoon of coziness.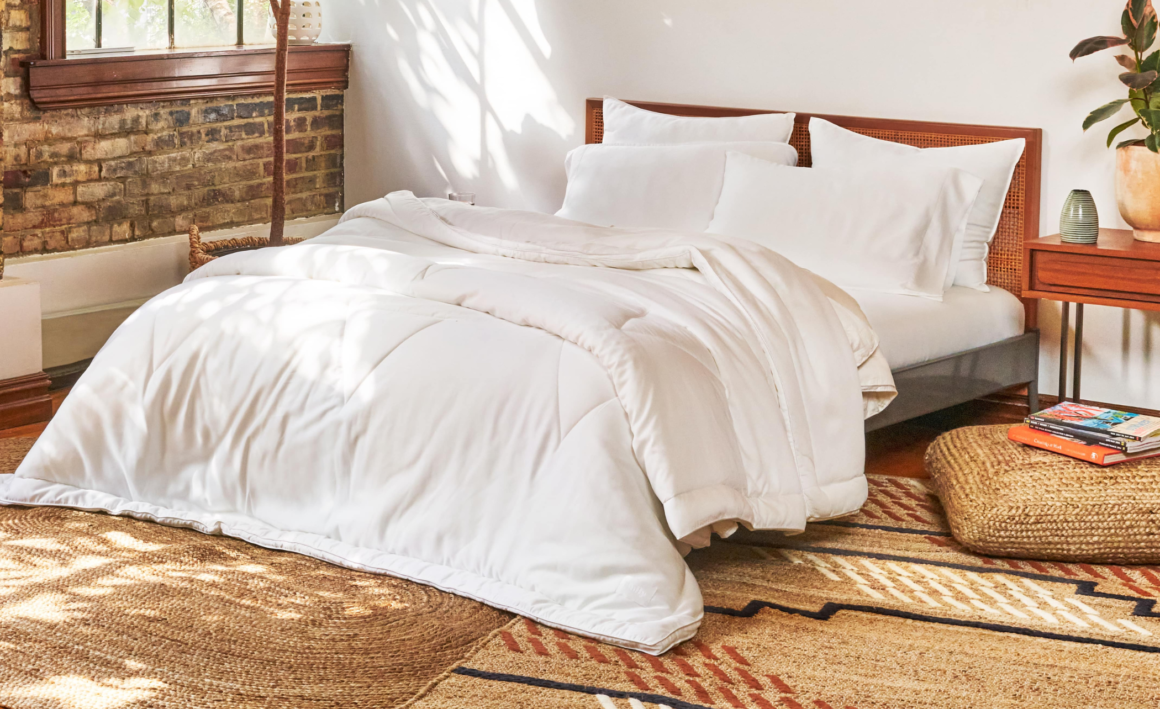 The fabric and filling are perfect: light enough to snooze under on a summer day, but still substantial and warm enough for winter. Fluffy, but not overwhelmingly so. There's a unique (and chic) stitching pattern throughout which keeps the recycled fill evenly displaced so there's no lumping. The best way I can describe it is like really, really nice hotel bedding. The kind you want to pack in your suitcase and take with you.
One Sleep Was All It Took
As I mentioned above, I'm no bedding connoisseur—but I am a connoisseur of comfort. And after just one snooze with my Cloud Comforter, I understood why it's the internet's favorite comforter. I've never felt more rested, and it's all thanks to my bedding.
I've never had an issue falling asleep, but I have noticed how much of a difference the Cloud Comforter has made in the quality and duration of my sleep. I think the real proof that it's the "goldilocks" of comforters is that I've stopped tossing and turning at night, and I no longer wake up with my comforter on the floor (a big issue with my too-hot old comforter).
Now, I wake up clear-headed and recharged, relaxing in a bed of clouds. Between the buttery soft feel and the "this is gonna last me a long time" quality, there's a reason Buffy's bestseller has 20,000+ glowing reviews.
After a few days, I actually ordered the Duvet Cover and Eucalyptus Sheets Set to complete my bedding, and I couldn't be happier. Actually, I have one complaint: I have been late to work a few times since switching to Buffy—since I never want to leave my bed.
The Clear Winner
Before ultimately deciding on Buffy, I spent a lot of time researching different bedding brands. So, I thought it might be helpful to share my insights on a few popular companies' best-selling options: Brooklinen's Down Comforter and Parachute's Down Duvet Insert (All-Seasons).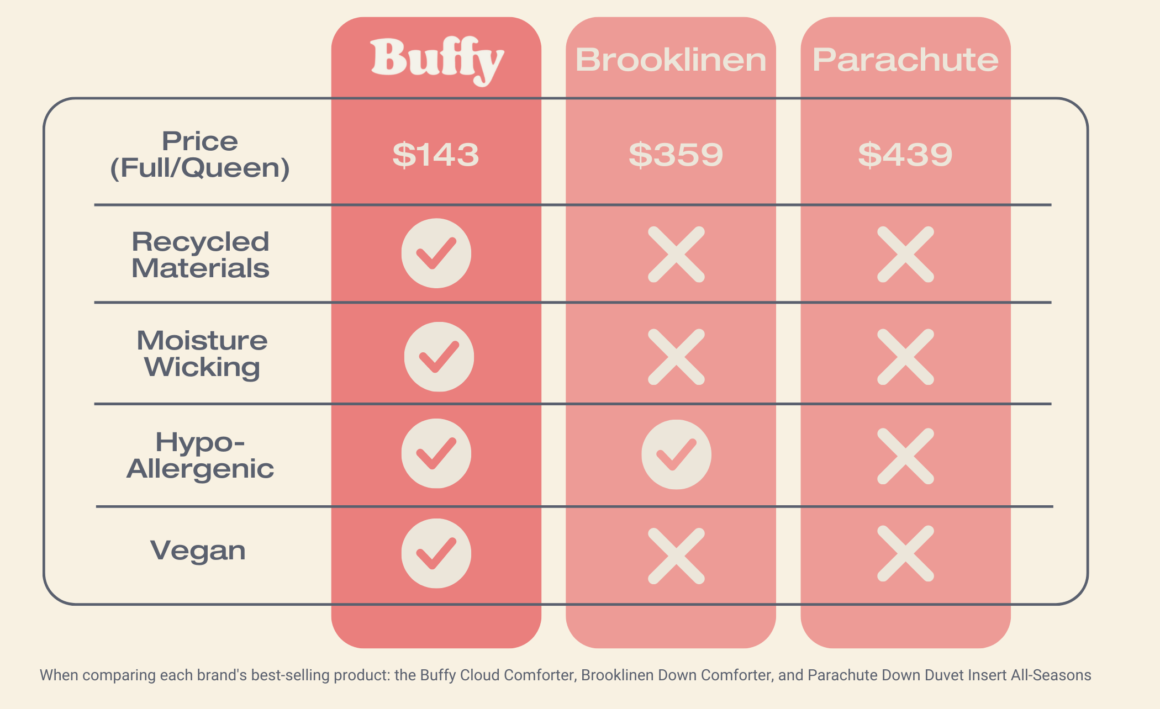 There are so many different things to take into consideration when choosing a comforter, but for me, both Brooklinen and Parachute left something to be desired (especially for the price). When it came down to it, the choice was clear. Buffy just does bedding better, more sustainably, and at a way more affordable price.
Plus, You Can Try It for Free
Yup, you read that right: F-R-E-E. Buffy is so sure that anyone who tries their bedding is going to love it, they do something I've never seen before. When you order, you put a card on file to start your 7-day at-home trial at no cost—not even shipping.
Then, you can test it out for a week to see how you sleep. If you don't love it, send it back.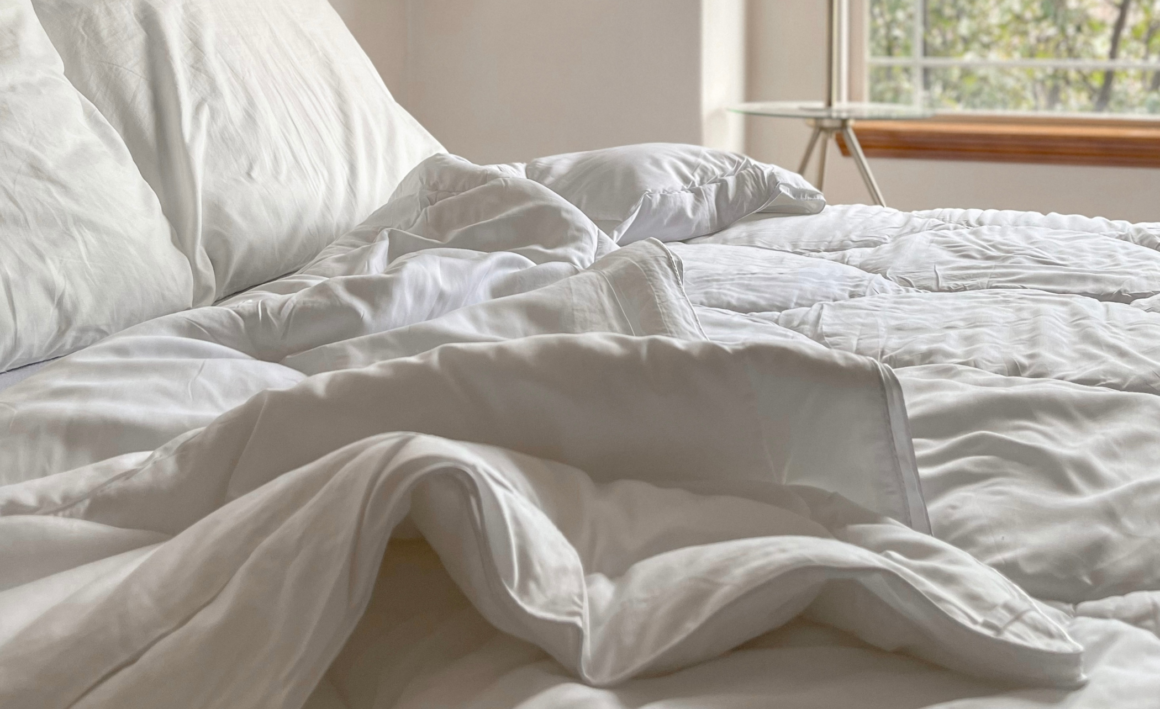 At the end of the trial, they charge the card on file, but if you're still not sure, or you realize Buffy's not the right fit for you after a few months, they also have a 100-day, no-questions-asked return policy. Aren't decisions so much easier to make when there's no pressure?
If you're going back and forth about whether or not to make the switch to Buffy, I can almost guarantee that one sleep will convince you. And for a limited time, everything on the website is on sale!