Sponsored Content
I hate myself for giving in to a viral trend, but dammit, I've wanted to try this mask since Drew Barrymore posted a photo with it on in 2017.  
Yes, I'm talking about Hanacure's All-In-One Facial, the viral skin-tightening mask that makes you look bloody terrifying for 20 minutes, then apparently leaves you with instantly lifted, smooth, plump, and evenly toned skin. Or at least, that's what the 19,000+ reviews say. (And Drew Barrymore, who called it a "professional level treatment at home").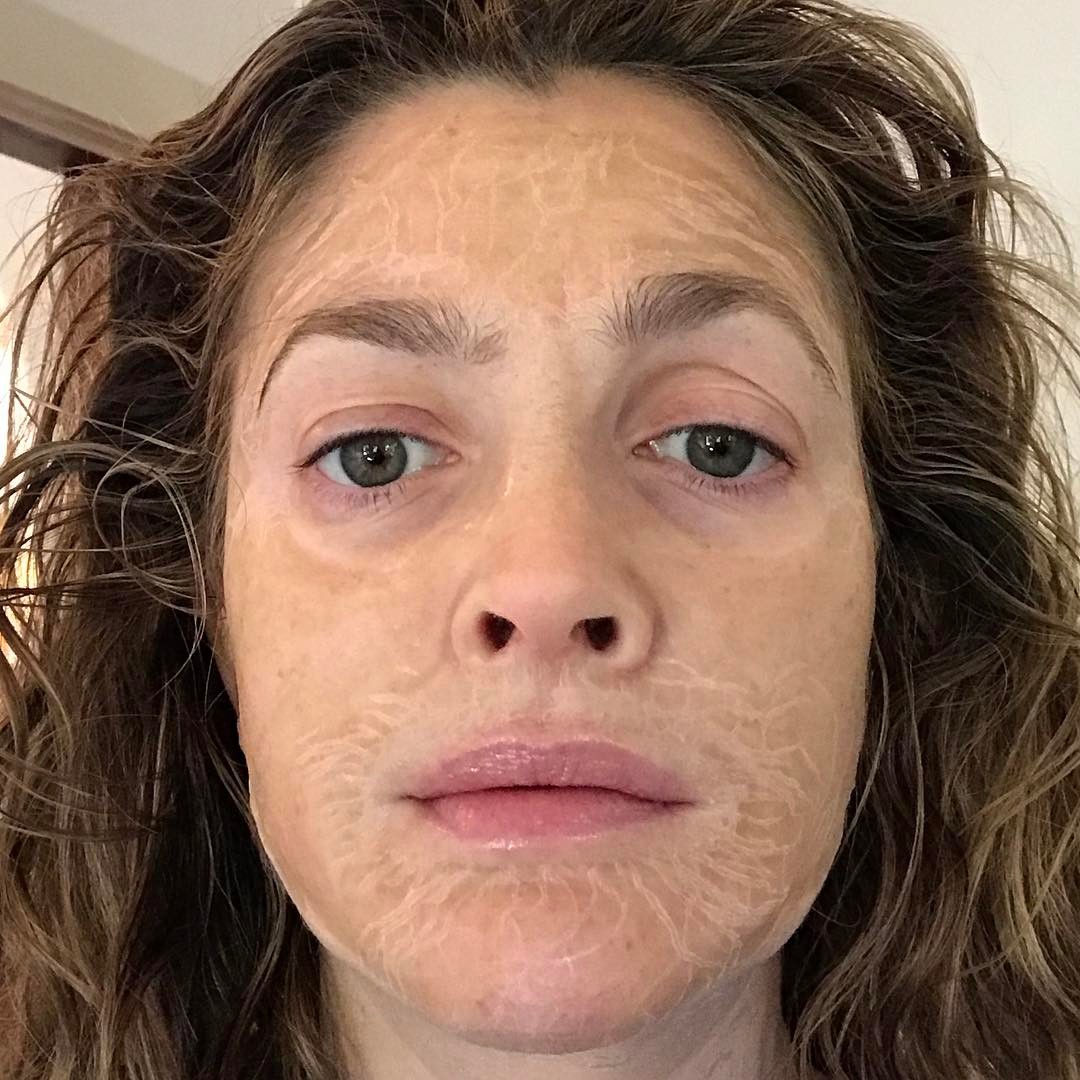 When Hanacure first stormed the skincare scene, I was 21 and had the bouncy, radiant skin to prove it. 6 years later, my now dull skin looks like the life has been drained out of it…and in the same timeframe, this mask has not only won 11 awards and been spotted on celebrities like Kim & Kourtney Kardashian and January Jones, but it's also racked up praise from Vogue, Elle, Cosmopolitan and Vanity Fair.
So the hype is (and always has been) there…
But the whole creepy selfie thing just seemed like a gimmick to me, especially at $29 per mask. But once I started Googling "Botox alternatives" a few weeks ago, my algo refused to stop serving me anything but Hanacure content. And when I saw the entire Instagram account dedicated to Hanacure before and after photos, and found out that they have a 100% money-back guarantee on The All-In-One Facial Set ($110 for 4 masks), I gave in and ordered one. Here's what happened.
Before I hit you with the jump scare pic, here's what you should know about Hanacure
If you're a sensitive skin girly like me, you'll know that formulas with minimal ingredients are the name of the sensitive skincare game. Hanacure claims to deliver that. According to their website, their dermatologist-approved formulas are produced in-house with "the highest concentrations of clinically-proven ingredients" like Copper Tripeptide-1, Beta Glucan, and Lotus Leaf "that ensure a minimal and uncomplicated approach to skincare." Sounds good, right?
Everything they make (Hanacure also has a cleanser and moisturizer) is vegan and gluten-free, is never tested on animals, and of course, contains no parabens, sulfates, phthalates, or artificial fragrances & colorants. Even better, in a clinical trial that included all ethnicities and skin types, 97% of respondents said their skin was tighter, firmer, and more lifted after using the mask.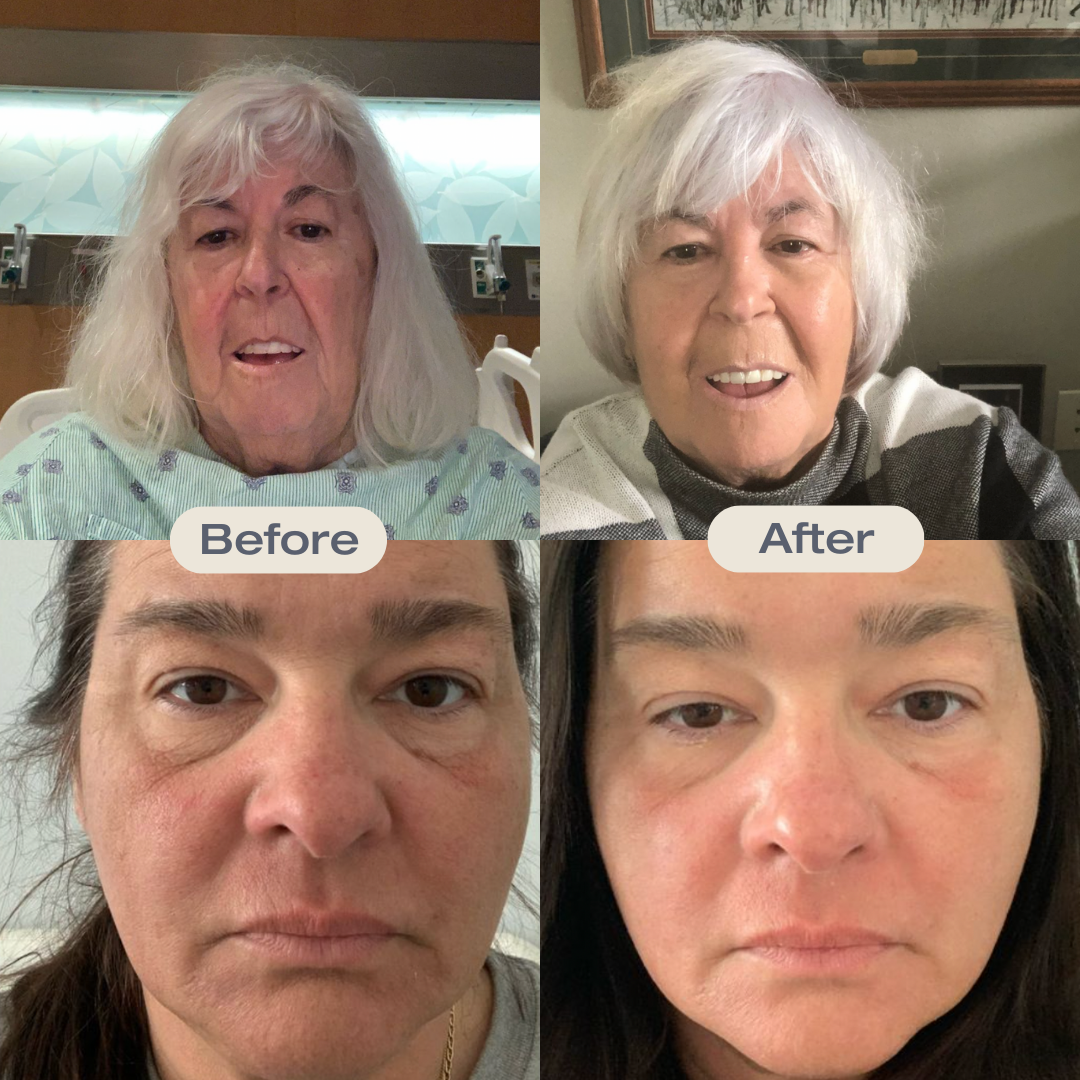 The insane before and after pics (from normal people, not celebs) were the main reason I was convinced to try Hanacure. I was also very down with the idea of a spa-grade facial I can do at home for a fraction of the price. But ever-the-skeptic, I wasn't gonna be convinced about its efficacy 'til I could see the transformative results for myself.
Now let's get into the fun stuff: testing it out
I ordered on a Tuesday, and by Friday evening I was preparing myself for a self care night. Free & fast shipping? Check. But it's what's inside that counts, and Hanacure did not disappoint there, either. I felt like I was a luxury skincare TikToker unboxing this baby—from the glass Octolift® Ampoules and Octolift® Solution to the included applicator brush—this set feels bougie. It's not hard to use, though.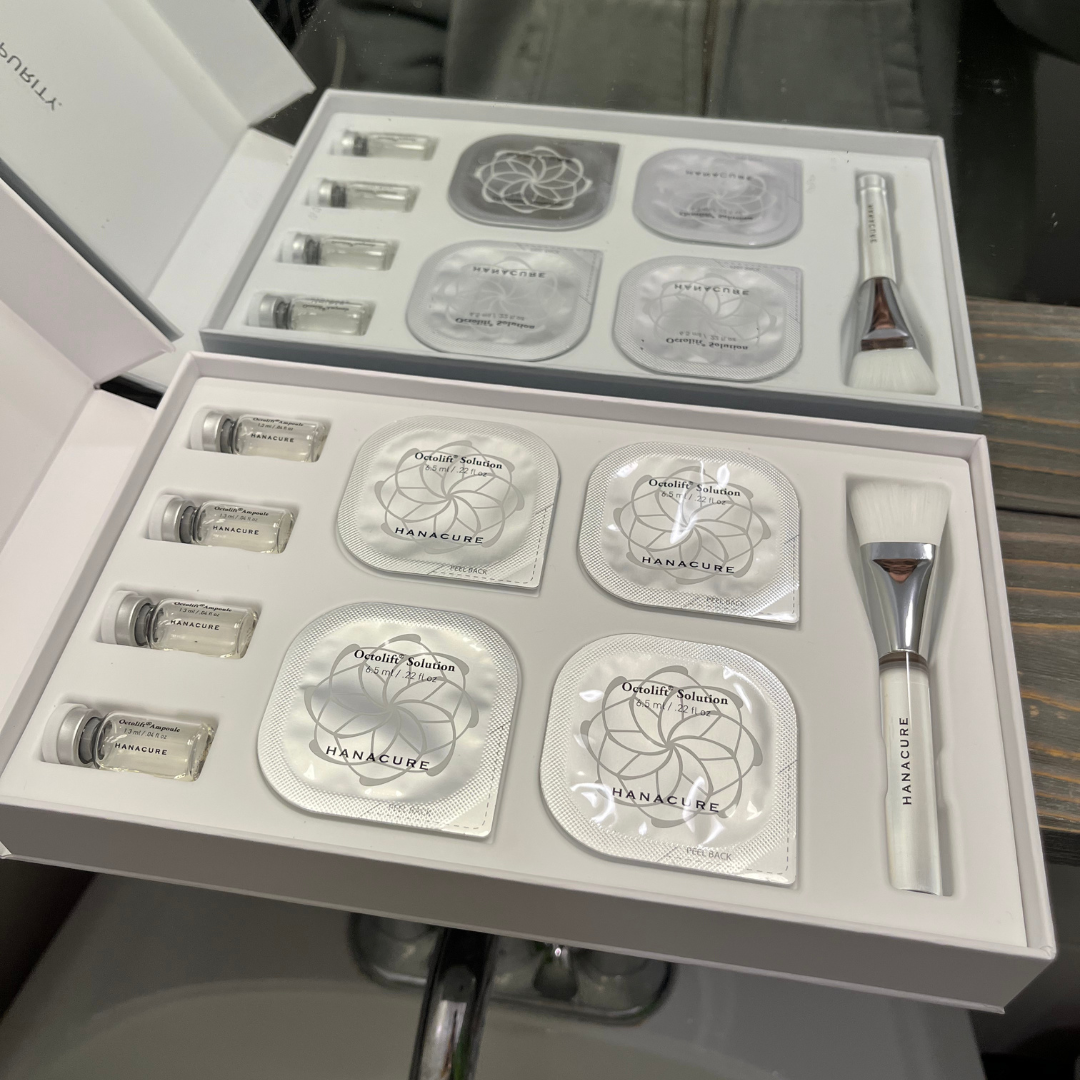 All I had to do was cleanse and dry my face, mix one of the glass vials into one of the solution packs, shake it for 20 seconds to activate it, and then use the brush to paint the gel all over my face, neck, and the back of my hands…then wait for 20 minutes.
10 minutes in, I understood why January Jones called it "for real intense."
This mask is not for the faint of heart. As soon as it started to dry, my face felt like I'd painted glue onto it, and it looked like it, too.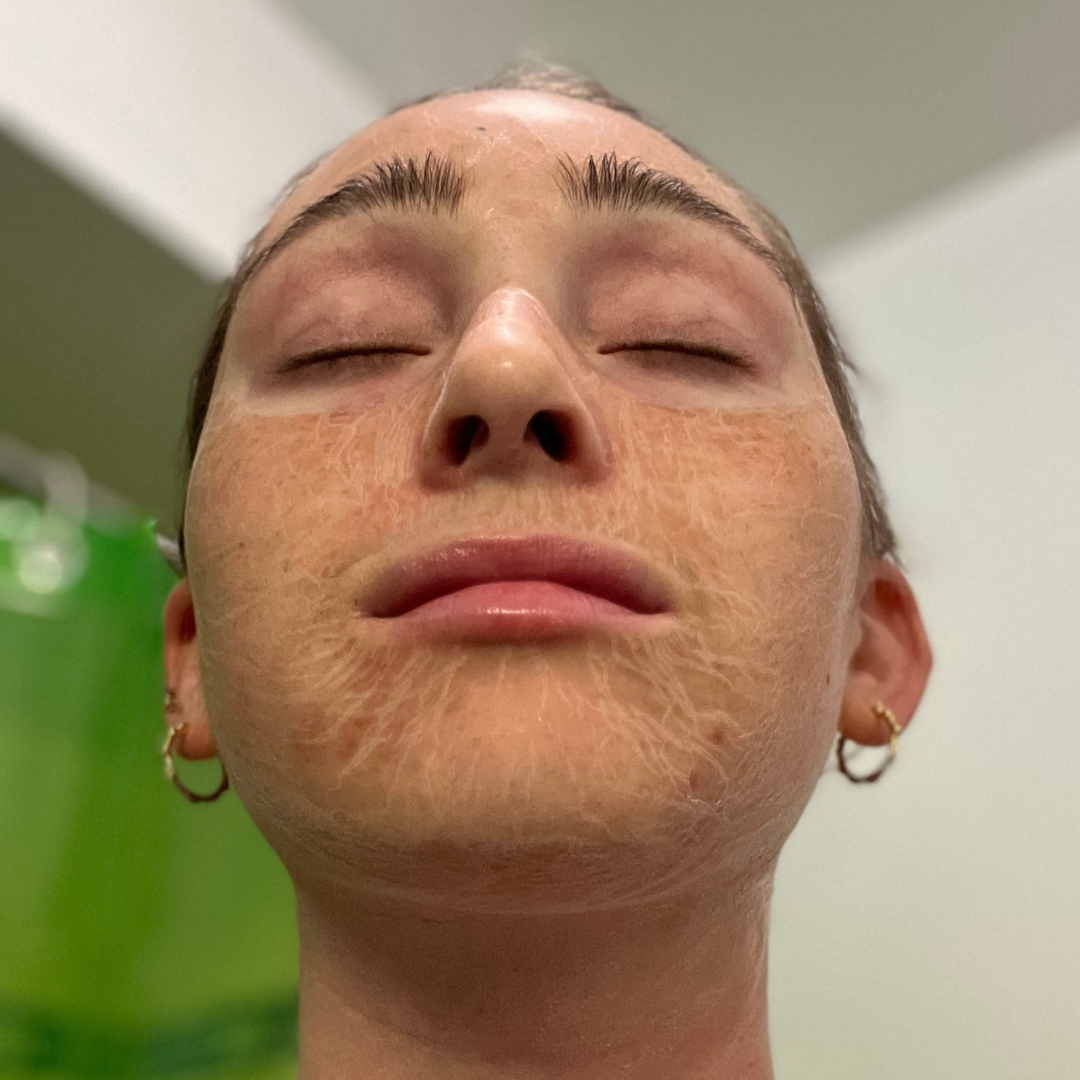 Like I said, the process was easy. The hard part was not laughing at myself in the mirror, so as not to disturb the drying process. And because smiling with this thing on hurt like a b*tch.
20 minutes (and 200 selfies) later
Given how tight my face felt with the mask on, I thought it would be impossible to wash off, like a clay mask. Au contraire. It rinsed off easily with some warm water. I followed up with my favorite moisturizer, and stepped back to scrutinize the results.
Immediately, I noticed the difference in my forehead. I've never gotten Botox, but my forehead felt so tight that I can only imagine that's what Botox feels like. Next, my pores (which have become more noticeable with age) looked significantly smoother and more refined, and the skin on my cheeks felt simultaneously softer, tighter, and more plump.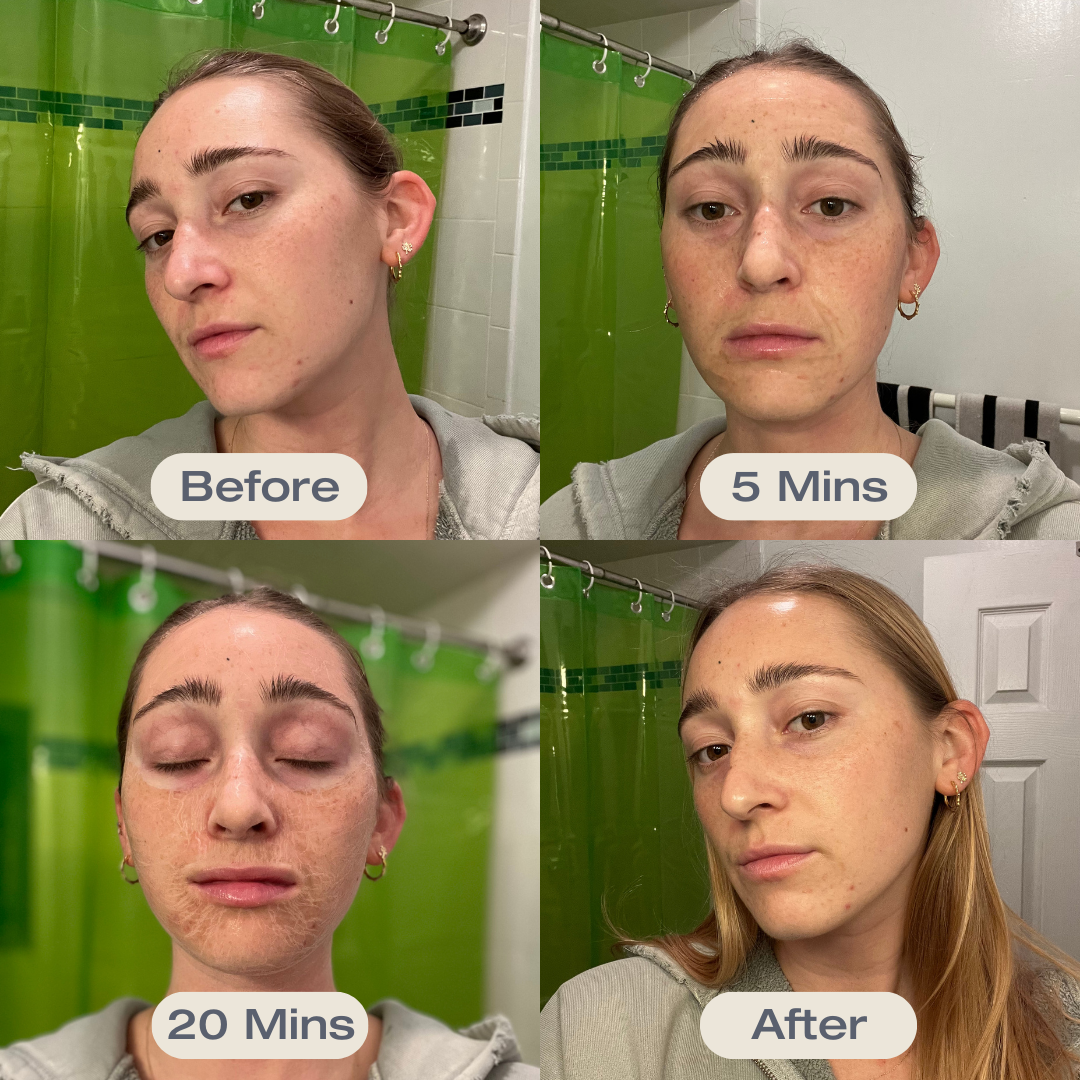 I don't think I've ever understood what "resurfacing" looked like until now, and that's all thanks to the high concentration of peptides and botanicals that work to clarify, calm, and soothe the skin after Hanacure's proprietary Octolift® technology does its tightening and lifting magic.
Apparently, it just keeps getting better
The instant results I saw from using one Hanacure mask were shocking enough for me to write a whole article about my experience. But I'm excited to see the longer-term impacts with continued use (they recommend using it once a week for the first month, and then as-needed after that, for the best results).
I've been struggling with hyperpigmentation from acne scarring lately, which was one of the most common skin concerns I saw in reviews (besides fine lines and wrinkles). So, I'm excited to see how much this mask can help with that over the next few weeks. I also just ordered their Microphol Neutralizing Cleanser and Nano-Emulsion Moisturizer after seeing how well the face mask works. Editor's Note: I'll update this piece in a month with my thoughts.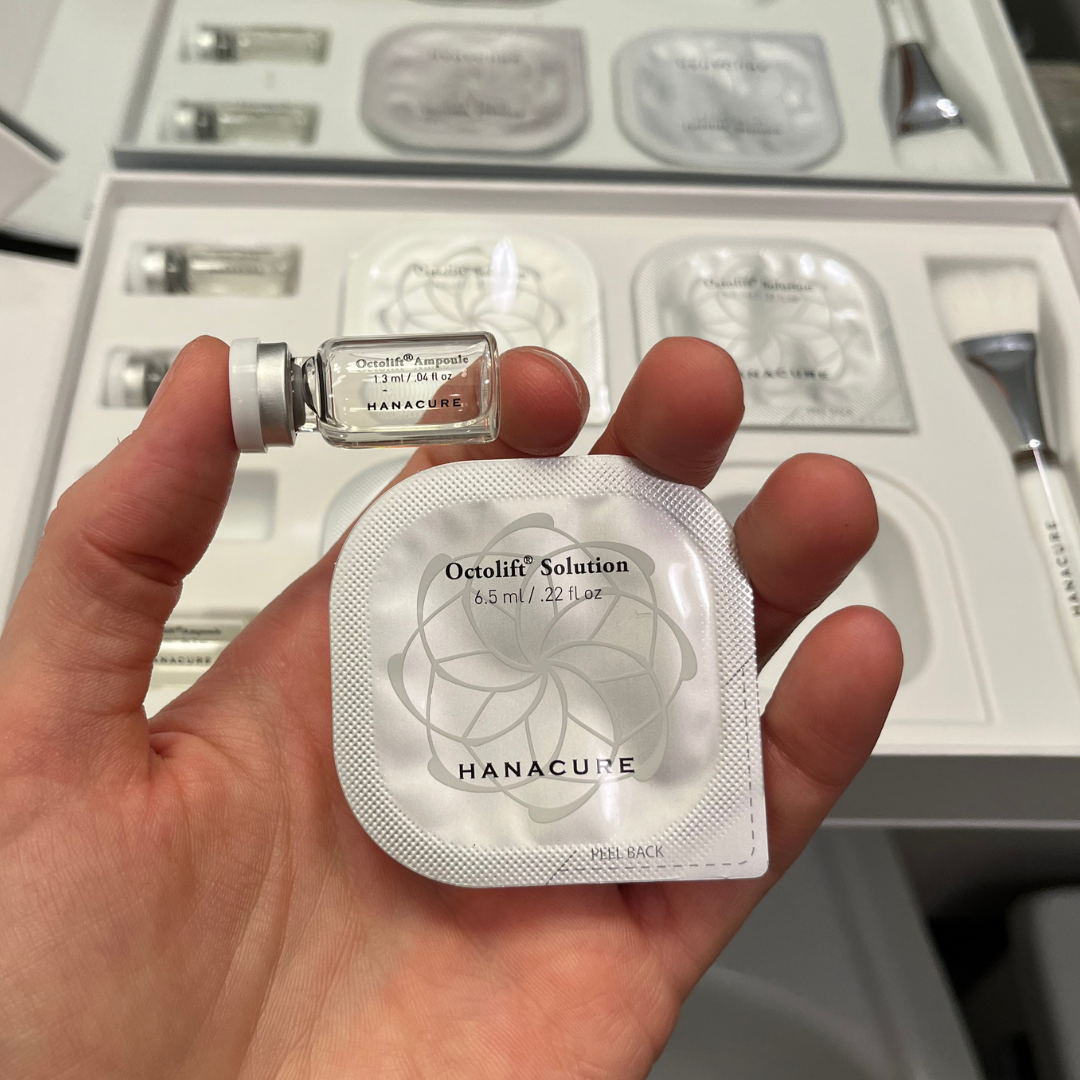 Some things really do deserve all of the hype
If I've learned anything from this experience, it's that A. Hanacure freaking works, and B. I need to stop being skeptical of things just because they're popular. Now that I've tested it, I can say that the All-In-One Facial is the most effective skincare product I've tried. It's a 20 minute at-home treatment that does the work of a 20-step skincare routine, and I could not be more here for it. In fact, I'm already planning to get a set for my mom and sister for the holidays this year.
If you're on the fence about it, it's worth mentioning that if you order the All-In-One Facial, it comes with free shipping and a 100% money-back guarantee, so there's no reason not to try it.
With Hanacure's All-In-One Facial, you can expect tighter, firmer, and more lifted skin, all with the convenience of an at-home treatment… if you can stomach looking like an alien for 20 minutes.