Sponsored
Fellow "Wintroverts," I'm About to Put You On
Unpopular opinion, but winter is the best season. The second the temperature outside drops below 45º you'll be hard-pressed to find me outside my house, and over the years I've converted my room into a cozy hibernation haven.
I've got the flannel sheets, half a dozen floofy pillows, a humidifier humming away, pine-scented candles a-burning, allll of the streaming services on deck…and my new favorite thing: a Bearaby weighted blanket. My sister struggles with anxiety, so she's had a Cotton Napper for a few years now to help her fall asleep faster, but I'd never actually tried it out until last Thanksgiving.
Maybe it was the turkey…but after 15 minutes snuggled up under her Napper, I felt a sense of calm that I haven't felt since before I had to pay my own taxes. I instantly ordered myself one, and a year later, I can say without a doubt that it's the best gift I've ever given myself.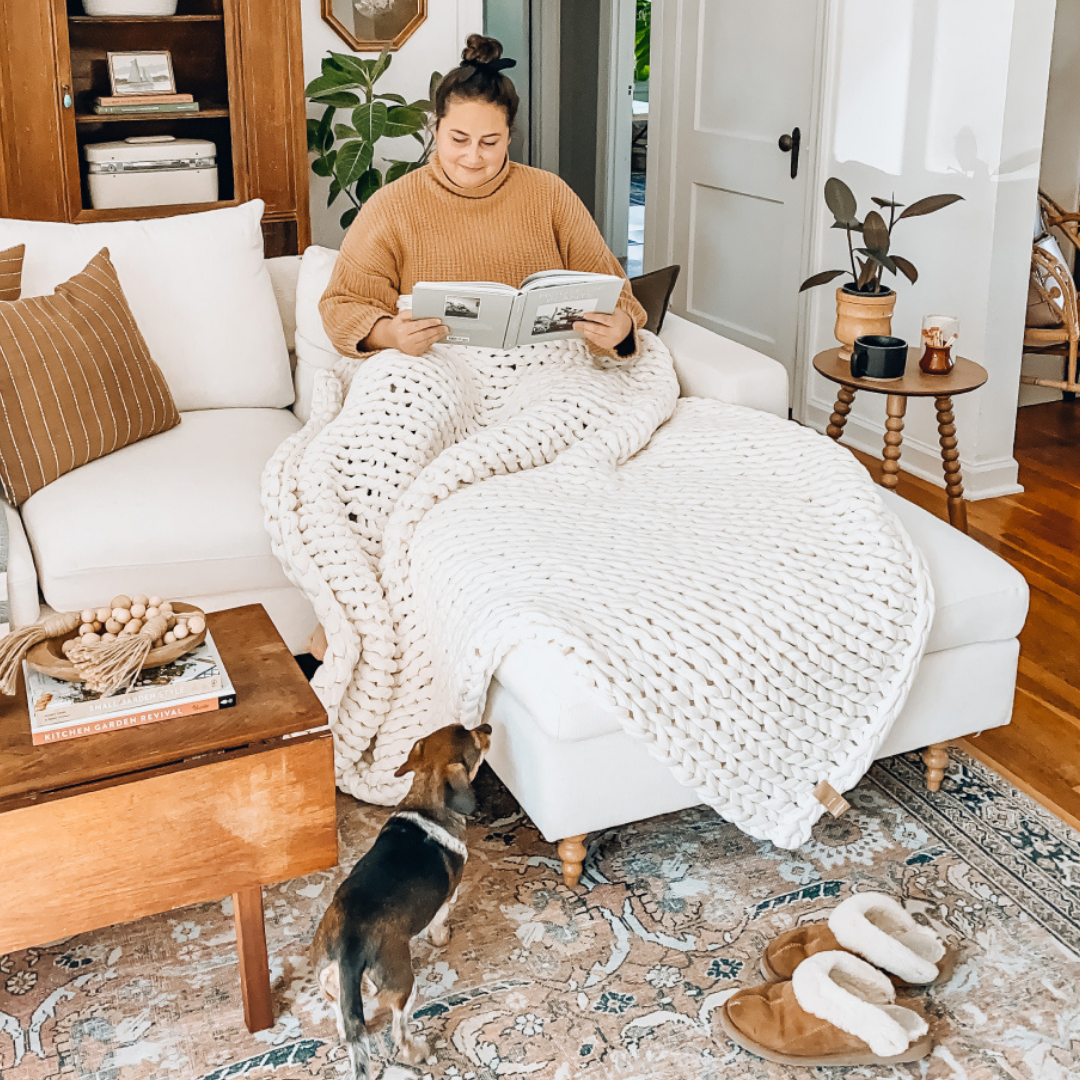 You may be thinking, "ok, a blanket is a blanket, right?" Wrong. I have a lot of blankets, and my Cotton Napper is in a league of its own. If you're a cozy queen like me, here's what you need to know about Bearaby's bestselling weighted blanket:
Instant Calm, Activated
Let's get straight to the science. Bearaby's beautiful, hand-knit Cotton Napper promotes a calming, peaceful sensation called Deep Touch Pressure, which basically feels like being swaddled like a baby or getting wrapped in a big warm bear hug. This triggers a cascade of positive effects on the body—from reduced anxiety to improved sleep quality.
Bearaby recommends a blanket weight around 10% of your body weight for the best effects.
It's Soft-As-Can-Be
One of my favorite things about my Bearaby blanket (besides the fact that it makes me feel like I just smoked a joint) is how soft it is. When Bearaby set out to make great, restorative sleep possible for everyone—they didn't forget about mother nature, either. The Cotton Napper is made from buttery-soft OEKO-TEX and Fairtrade International certified organic cotton, which is long-winded way of saying Bearaby doesn't f*ck up the planet in the process.
Oh, and since the cotton Bearaby uses is chemical, pesticide, and artificial softener-free—my Napper doesn't irritate my sensitive skin or trigger any allergies.
Looks Like a Million Bucks
Last but not least, my favorite thing about my Cotton Napper is how dope it looks in my hibernation den. As I mentioned before, I spend the majority of winter in my room, so the feng shui has to be just right. Luckily, my Napper looks even better than it feels. The chunky knit design is supremely Instagrammable, (and fun to fiddle with whilst binging The Great British Bakeoff).
I love my "Evening Rose" Napper, but it was a tough decision between that and the "Cloud White" color. With five colors to choose from, there's a Cotton Napper for any aesthetic.
Made for Year-Round Comfort
Yeah, I know I've been going on and on about how my Cotton Napper is my favorite cold-weather essential, but it's actually so breathable that I slept with it all summer long too. The open-looped knit design doesn't just look cute—it also allows air to flow freely. I'm not a hot sleeper, but my sister is, and she loves that it keeps her calm and cool all night long. As for me, I prefer to double up on the flannel sheets under my Napper.
Go Forth, and Get Cozy
Fair warning, excellence ain't cheap. The Cotton Napper ranges from $199 to $279 depending on the weight you select, but to me, it's paid for itself 10x over. And since they offer free shipping and returns, plus a 30-day "try it" policy, there's no better time than the present to try one out for yourself.
Just please don't come for me when you start cancelling all of your social plans to stay in bed this winter.
Do yourself a favor and head to Bearaby's website now to experience the magic of the Cotton Napper.