The Get Well is reader-supported. When you buy through the links on our site, we may earn a commission.
Bamboo vs. Eucalyptus: Which Sustainable Sheets Are Right For You?
There's nothing quite like the feeling of getting into the crisp, soft sheets of a cloud-like hotel bed. In an effort to recreate this five-star experience at home, we scoured the internet looking for the comfiest sheets. After countless sleep trials and some of the best night's sleep we've had in years, we discovered the two top players in the industry right now are cotton alternatives: Buffy's Eucalyptus Sheets and Cozy Earth's Bamboo Sheets.
These bedding options have been gaining popularity as sustainable alternatives to traditional cotton for being softer, cooler, and more durable than cotton. We'll explore the characteristics and benefits of eucalyptus and bamboo sheets, comparing factors like durability, breathability, and overall sleep experience. We're uncovering the secrets and myths behind both eco-conscious bedding choices so you can make an informed decision that's good for you and the planet!
Whether you're seeking softness, moisture-wicking properties, or natural cooling abilities, we've got you covered.
Editor's Note: Buffy's best sale of the year has arrived. All of their silky soft, cozy bedding is 20% OFF, but not for long. You can thank me later. 😉
When it Comes to Materials and Eco-Friendliness: Buffy
You've heard of cotton, linen, and sateen or silk sheets. But what about eucalyptus and bamboo? Both of these types of sheets are the earth-friendlist bedding materials you can find out there. But what's the difference between them? Well, there's quite a few things that set them apart from each other. One of the most significant differences between the two materials is that eucalyptus is more sustainable than bamboo.
Eucalyptus sheets are crafted from responsibly sourced eucalyptus trees, while bamboo sheets are made from bamboo fibers. Although bamboo is often touted as a sustainable material, its production can sometimes involve chemical processes that impact the environment. Eucalyptus sheets, on the other hand, offer a more environmentally friendly option.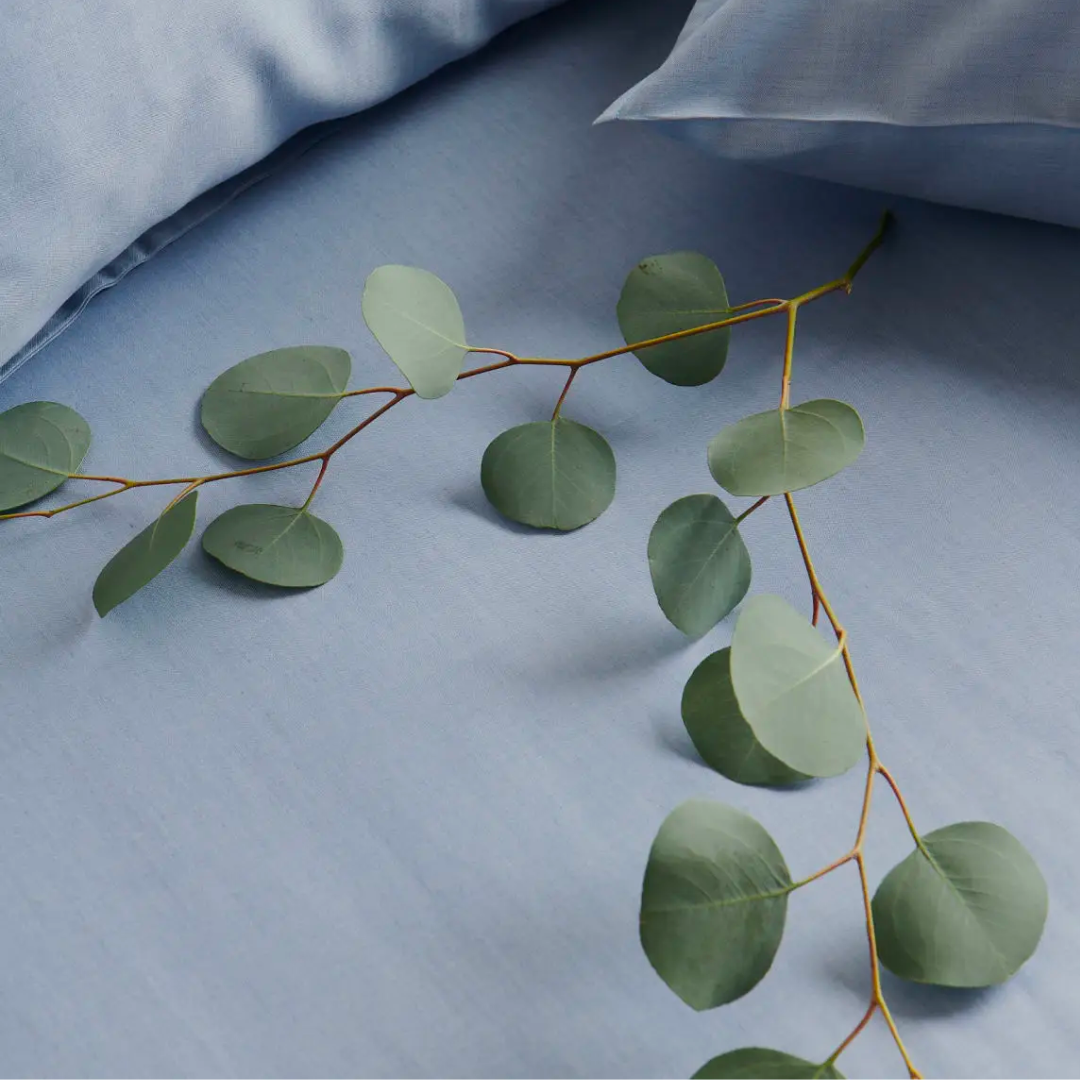 If You Prioritize Comfort and Feel: Buffy
Eucalyptus and bamboo sheets are naturally more comfortable than their alternatives, but they'll each give you different sleep experiences. While bamboo can supposedly be softer, eucalyptus is more luxurious in feel. Sleeping under Buffy's Breeze Eucalyptus Sheets feels like being under a super smooth, cozy cloud that's silky soft against your skin, and feels light and airy at the same time. It's truly the smoothest sheets we've ever touched, and they only get better after every wash.
Cozy Earth's Bamboo Sheets on the other hand, feel like there's a bit more weight to them, with a somewhat coarse, but still soft feel. However, bamboo sheets tend to be more prone to wrinkling, and because they are more delicate, it's advised that you air dry them to avoid damaging.
In terms of comfort and tactile experience, both eucalyptus and bamboo sheets provide a cozy and comfortable feel against your skin. Although, if you prefer a truly soft and more luxurious touch, eucalyptus sheets might be the ideal choice for you.
If You're Looking For Durability: It's a Tie
When it comes to durability, both Buffy's Eucalyptus Sheets and Cozy Earth's Bamboo Sheets offer excellent quality. The durability of the sheets depends on factors such as thread count, fabric quality, and construction.
Buffy's sheets have a thread count ranging from 300 to 500, indicating their high-quality construction and ability to withstand regular use and washing. With proper care, these sheets can maintain their softness and integrity over time.
Cozy Earth's sheets typically have a thread count ranging from 300 to 400. While slightly lower than eucalyptus sheets, they still provide a durable and long-lasting bedding option.
Both eucalyptus and bamboo sheets are known for their durability and resistance to wear and tear. But if you're looking for sheets with a higher thread count and potentially greater longevity, Buffy's Eucalyptus Sheets are the better choice.
If You Seek Breathability and Temperature Regulation: Buffy
When comparing the breathability of eucalyptus and bamboo sheets, eucalyptus takes the lead. Eucalyptus sheets can help regulate body temperature, keeping you comfy and cool all night long. They excel at promoting airflow and allowing heat and moisture to escape, creating a more comfortable sleep environment. Thanks to their natural moisture-wicking properties, eucalyptus sheets are sure to keep you dry and comfortable even in the hottest climates.
Bamboo sheets also offer good breathability, but they may not provide the same level of temperature regulation as eucalyptus, since these aren't usually as effective at dissipating heat, especially in warmer climates or for those who tend to sleep hot.
If you prioritize breathability and temperature regulation, eucalyptus sheets are the way to go for a cool and comfortable sleep experience.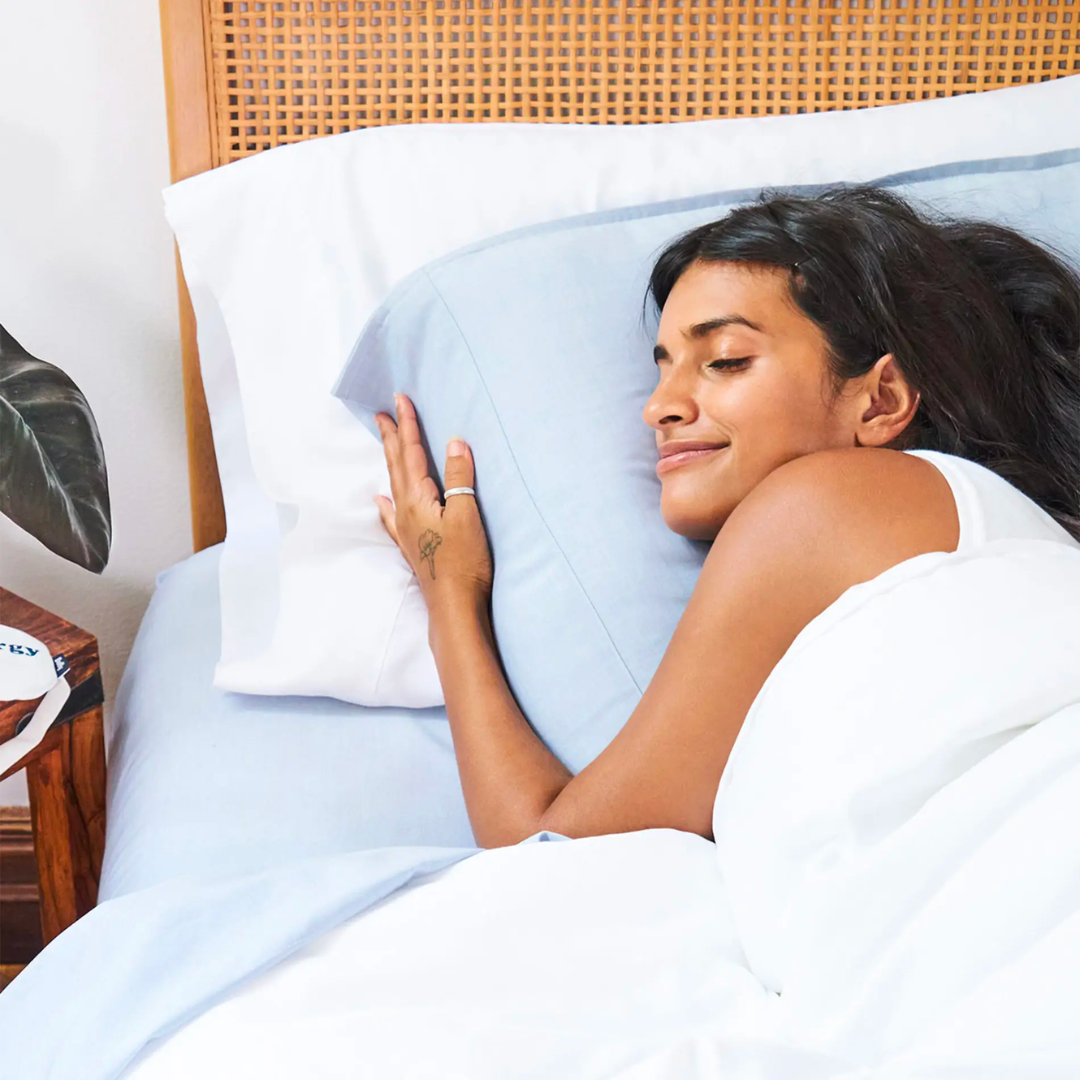 If You Need Hypoallergenic Properties: Buffy
For those who struggle with allergies or sensitive skin on the daily, both eucalyptus and bamboo sheets can be suitable options. However, eucalyptus sheets have a slight edge when it comes to their hypoallergenic properties.
Buffy's Eucalyptus Sheets are naturally hypoallergenic and antimicrobial, reducing the risk of allergens and providing a clean and healthy sleep environment—making them an excellent choice for people with allergies, and prone to skin sensitivities.
Cozy Earth's Bamboo Sheets also offer some hypoallergenic benefits but may not provide the same level of protection against allergens as eucalyptus sheets. If you have allergies or sensitive and/or acne prone skin, eucalyptus sheets, such as Buffy's Breeze Sheet Set, are a top-notch option to consider.
If You're Searching for Price and Value: Buffy
When considering the price and value of eucalyptus and bamboo sheets, it's essential to take into account the overall quality and features they offer.
Buffy's Eucalyptus Sheets are not only superior in terms of quality and performance but also offer a more budget-friendly option compared to Cozy Earth's Bamboo Sheets. While providing good comfort and quality, Cozy Earth's come at a higher price point, starting at a whopping $339 for their Bamboo Sheet Set. While Buffy's Eucalyptus Breeze Sheet Set is competitively priced at $125.
If you compare the prices, it's clear that Buffy's Eucalyptus Sheets offer a more cost-effective option, where you get more bang for your buck. With Buffy, you can enjoy the benefits of sustainable and luxurious bedding at a price that fits your budget.
And The Winner Is…Buffy
Buffy's Eucalyptus Sheets are the clear choice for sustainable, luxurious, and affordable bedding. Believe it or not, they're more breathable than cotton, softer than linen, and far more sustainable than bamboo. They are the absolute winner in the battle of eco-friendly sheets, with their incredibly comfy, smooth-to-the-touch fabric, moisture-wicking and hypoallergenic qualities, impressive durability, sustainability, and unbeatable price point. Buffy provides the ultimate value for your bedding investment. Plus, Buffy offers so many cute color choices, there's truly an option for every bedroom aesthetic.
Stay cool and comfortable all night long with Buffy's long-lasting eucalyptus sheets for years of cozy nights. Sweet dreams await…