Sponsored Content
I upgraded my travel game with sleek, leak-proof, and eco-friendly capsules…
For someone who always has to fly cross-country for a holiday season at home, I know as well as anyone that traveling during this time of year sucks. I don't even wanna talk about how many times I've lost precious bottles of expensive skincare to the maddeningly arbitrary rules of TSA…
And even when I try to follow the rules, my bag ends up overcrowded anyway. Holidays with the fam are stressful enough, I don't know if I can handle another one without my Marie Veronique skincare routine. Thankfully, my best friend is a flight attendant, and she put me on to the solution to all my problems: Cadence's revolutionary travel capsules.
These TSA-approved, Instagrammable, leak-proof containers are simplifying the art of travel. And, to put the cherry on top, they're on sale for 25% off during Cadence's best sale of the year. From now until November 27th—or until they sell out—you can get one of Time Magazine's 'Best Inventions' for a discount and leave your transportation anxiety at the door. 
I already leveled up, but apparently, Cadence sold out completely before the sale ended last year. After seeing how incredible these things are, I wouldn't be surprised if that happened again. These life-proof capsules can save you from any packing nightmare.
Cadence Sold 1.5 Million Capsules, and Then Upgraded Them.
After racking up some serious press love from publications like Forbes, Refinery29, Travel + Leisure, and Who What Wear… Cadence decided to roll out some new improvements in their capsules with the thorough and meticulously designed Flex System.
Previously only available in the .56-ounce size, the new capsules have a wider mouth and come in multiple sizes, so you can tailor yours to your own specific routine. There's even a 1.43-ounce Extender ($14), which you can screw onto the new small ($14), medium ($22), or large ($36) to essentially make your own size.
The opportunities are endless. And don't worry, you can still get the Originals if you prefer. When they say everything is 25% off, they mean everything. I ordered a custom Set of 7 capsules and they've already been game-changing for me. Here's how:
They're Made for Real Life
No matter how careful I am about packing my toiletries, something always leaks in my bag when I'm on the go. With these Cadence capsules, I don't have to worry about that happening anymore. Leak-proof and air-tight, these life-savers keep my products exactly where they're supposed to be.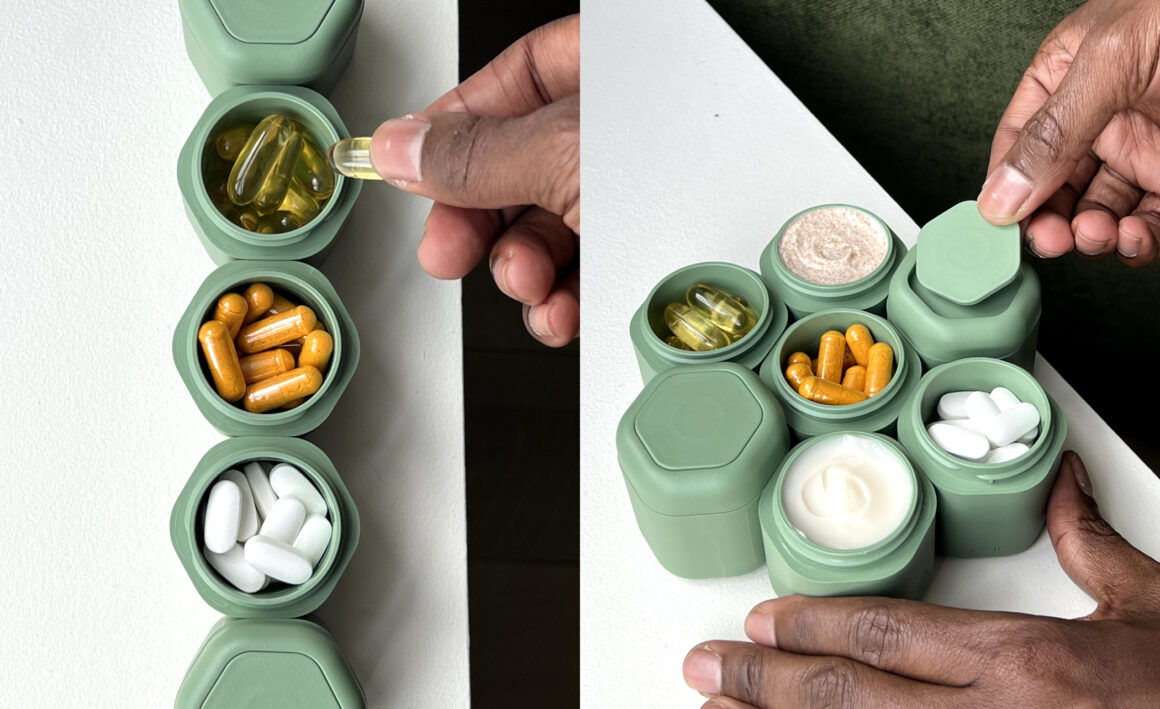 They're also basically indestructible. Each magnetic capsule is double-walled with a seal and twist-on cap, so I never have to worry about whatever WWE wrestling match goes on before the baggage claim. But the best part is that, for all their toughness and protection, the Capsules are still super lightweight and take up very little space.
Fully Customized to Fit Your Flow
Everybody moves to their own rhythm. Of course, a company called Cadence is gonna honor that. Each capsule is fully customizable and flexible to fit anyone's specific routine and holds an endless array of travel necessities—from vitamins and serums to earrings and skincare. They come in a variety of beautiful colorways and in 3 versatile sizes. You're free to mix and match as you like.
The 56: The small capsule holds .56-ounces in a shallow and wide profile, perfect for eye cream, balm, and ibuprofen.
The 132: The medium capsule holds 1.32-ounces, great for cleansers, face masks, and medications.
The 256: The large capsule holds 2.75-ounces—nearly 5x the volume of the 56—and can hold things like lotion, body wash, or shampoo.
And then there's the 1.43-ounce Extender that can be added onto any of these. In another feat of design magic, they also feature interchangeable magnetic labels—so you always know what's inside. You can either write a custom label or choose from common items. For somebody who is colorblind and doomed with a horrible memory, these were crucial for me.
Flight Attendant-Approved
A lot of people don't know this, but TSA guidelines require all containers to be "marked" less than 3.4 ounces. This means that without a proper label, any container can be confiscated by TSA. Cadence thought of everything though—their Capsules are TSA-compliant and clearly marked.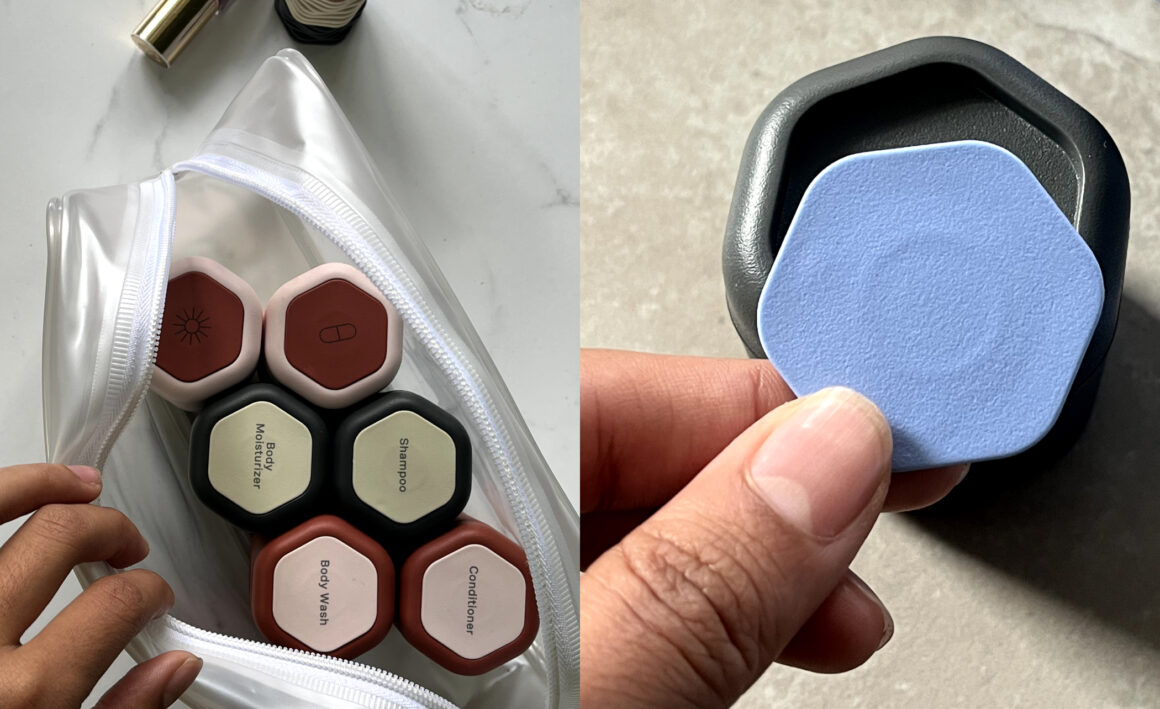 And while these carry-on-friendly capsules are small, they fit wayyy more than I thought they would. You can use Cadence's own Capacity Calculator, too, to get a good sense of what you can fit.
The Holy Grail of Form + Function
Even before my flight attendant friend told me about Cadence, I'd seen them all over Instagram. Considering the super-compact, hexagonal capsules are as gorgeous as they are easy to use, this probably comes as no surprise. The design isn't just for aesthetic reasons, though. The sleek, honeycomb-inspired capsules feature wide-mouth openings for filling with ease, whereas traditional narrow-necked toiletry containers are a complete mess to fill.
I've thrown my fair share of plastic bottles away after trips because they were too difficult to clean or reuse. Cadence's capsules, on the other hand, are leaps and bounds better than those mini bottles because I can use and re-use them again and again after a quick hand-wash.
Planet-Conscious
Single-use plastic has long been on its way out, and I don't think anyone is interested in contributing to the plastic crisis. Unfortunately, since most travel-sized containers end up in the bin, taking a trip can be a wasteful experience. That's where Cadence comes in. Their infinitely reusable capsules don't just help me reduce my single-use plastic waste—they're also made with a percentage of ocean-bound plastic.
Cadence capsules were designed to last a lifetime, which is a win-win for me and the environment. On a more selfish note, making the investment into Cadence helps me save money in the long run by ensuring that I no longer have to buy overpriced mini versions of my favorite products.
Completely Change the Way You Travel (For 25% Off)
If you're ready to start packing like a professional, I can't recommend Cadence enough. And if you're looking for a holiday gift that anyone on your list will appreciate, Cadence has a gift guide packed with all of their best-selling capsule sets.
From the intuitive screw-off lids to the magnetic modularity, it's clear that Cadence really thought of everything. Less mess, less stress, and more pieces of home with you wherever you go. While the Capsules are an investment, the peace of mind they give you while traveling is priceless. And getting these beauties for 25% off doesn't hurt, either. This is their biggest sale of the year, but it only lasts a couple more weeks. Don't miss out.
Sales this good for products this great only happen once a year. Customize your Capsules now and save 25% on an instant travel power-up.