Sponsored
I Thought I'd Given Up on Humidifiers Until I Tried Canopy
I've had a "high-end" humidifier on my nightstand that has not been filled up or switched on in almost a year. It's gotten to the point that I only use the humidifier during the winter months when I need it most…but I still dread the experience.
Why? Well, simply put, humidifiers are a huge pain in the ass! Or at least they used to be—until I discovered that Canopy had completely solved all the problems of traditional humidifiers. Allow me to explain.
Editor's Note: For a limited time, get 10% off sitewide with the code GETWELL. And yes, that's on top of the discount you'll receive when you sign up for a subscription! 🔥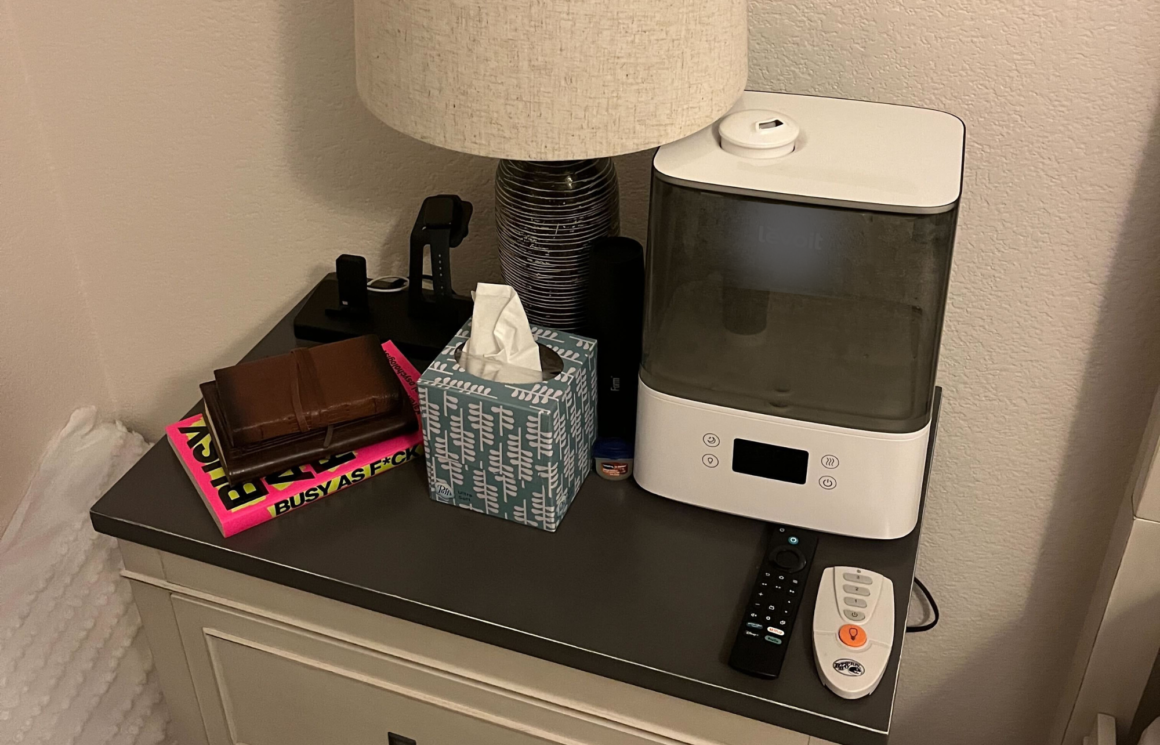 Uh, What Does a Humidifier Even Do?
Great question. Sleeping with a humidifier is seriously life-changing. Like anyone who has ever used one, I can immediately see the improvement it makes in both my self-care routine and my overall health. Countless doctors and beauticians agree it's one of the "easiest" ways to keep your hair, skin, and respiratory system healthy.
Maintaining optimal humidity in your bedroom keeps your skin, hair, eyes, and lips hydrated while you sleep—and strengthens your skin barrier to protects you all day long. Especially during the winter months, I've noticed that sleeping with a humidifier makes a huge difference in the way my hair and skin look and feel.
That said, I'm always surprised by how much further my beauty products go when I sleep with a humidifier. Hydrated skin means I need less lotion, serum, and creams, and that adds up to some serious savings!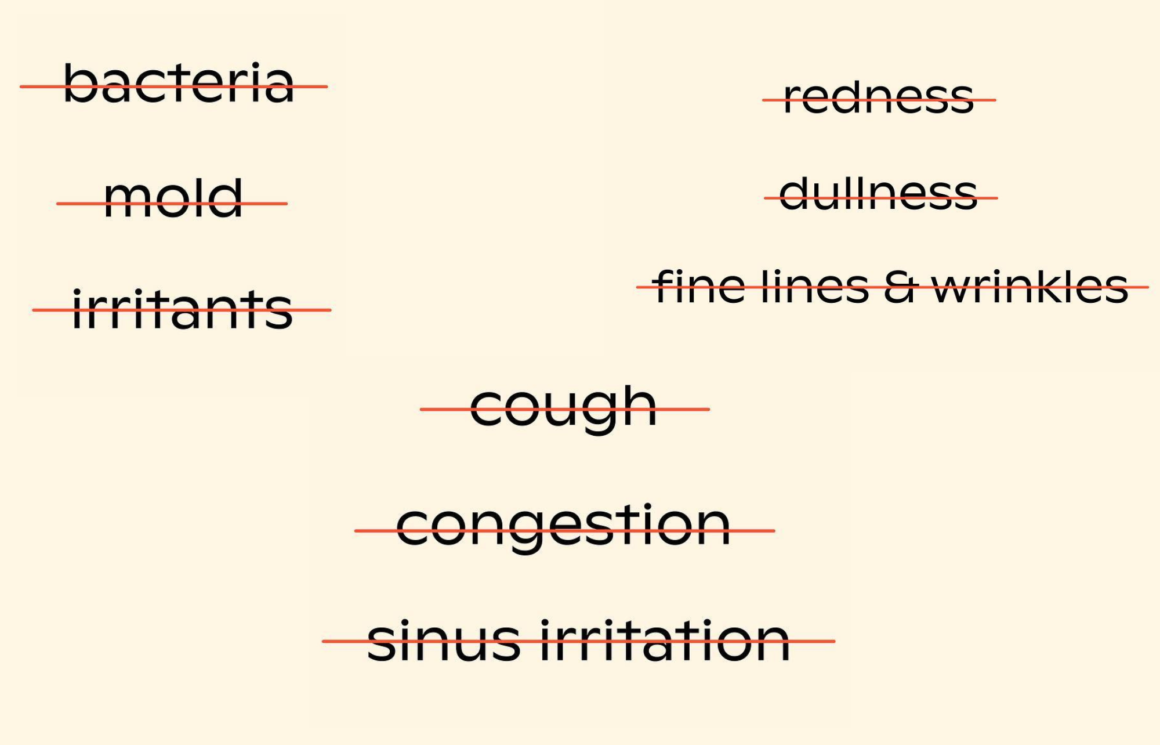 The humidity also helps me sleep better at night because I don't wake up with congestion or a dry mouth, and it noticeably reduces my allergy symptoms in transitional months. It also combats sore throats and alleviates cold and flu symptoms. My favorite part: it stops my husband from snoring.
Why don't I always use a humidifier? Maybe I'm just lazy, but these "effortless" benefits never seemed that effortless to me. Until I found Canopy.
OK, So What's a Canopy?
It all started in 2019, when design engineer Lucas Lappe watched his partner vigorously scrub her humidifier piece by piece for the millionth time. It was a long, tedious process that had become all too frequent. Knowing that there must be a better solution, he set out to make a sleek, aesthetically-pleasing humidifier that's both easy to use and easy to clean.
After dozens of prototypes and iterations, the award-winning Canopy Humidifier was born. The brand's sophisticated technology has revolutionized the humidifier market and I can personally attest that it's an absolute game-changer.
Canopy Is Built Different
If you've ever used a humidifier, I'm sure you can relate to my struggles. If you're new to the humidifier scene, let me save you a bunch of time and frustration and explain exactly why Canopy is the only humidifier I will ever use again.
The old me used to make a special bi-weekly trip to the pharmacy to pick up eight gallons of distilled water for my humidifier. Distilled water is more mold-resistant and helps keep a standard humidifier clean and odor-free.
It was annoying, but not nearly as annoying as taking the humidifier apart and cleaning all of the parts, trays, and hoses by hand—and then scrubbing the tank with vinegar (which I still had to do every few weeks anyways).
The Humidifier, Reimagined
What sets Canopy apart from other humidifiers is their patented SPA (Smart Persistent Airflow) technology. It's the only humidifier on the market that ensures every last molecule of moisture is evaporated before the airflow stops—even if you turn it off. That means no mold, no mildew, no odor, and a lot less cleaning.
Best of all, you can use tap water! Canopy treats the water with UV light, and the replaceable paper filter traps any metals, dust, or contaminants before evaporating it into the air. Now I don't have to make special water runs and no longer have a closet full of single-use plastic gallon bottles.
I still clean my Canopy Humidifier every six weeks when I replace the filter—although I've never seen or smelled anything funky. Maybe it's just a force of habit, I don't know. What I do know is that cleaning this thing is a breeze. Everything pops apart and I love that I can just throw the base and water tank in the dishwasher.
Plus, It Looks (and Smells) Fabulous
Not only is my Canopy humidifier easy to set up and clean, but it also elevates my home experience. The sleek device looks great on my nightstand and delivers optimal hydration for 36 hours straight, even though it's significantly smaller than my old, clunky eyesore of a unit.
My husband appreciates how Canopy's mist-free diffusion is invisible, since my old humidifier looked like a smoke machine in a bad 80s movie.
It also has a built-in diffuser. All you have to do is place a "scent puck" on top of the evaporating chamber and add a few drops of essential oil on it. Canopy collaborates with cool brands like Laneige on limited-edition scents—all of which are made with pure essential oils and free of harmful ingredients like parabens or sulfates.
Lastly, my husband and I aren't quite there yet—but when we do have a kid, it's exciting to know that Canopy helps babies sleep better too, alleviating cold symptoms, allergies, and skin issues like eczema (which means less sleepless nights spent crying).
You Don't Have to Lift a Finger
Canopy has a few different purchase options available, but I'd recommend going for their most popular subscription option—which comes with the humidifier, a filter, and three aroma kits for $125. This activates a $25 subscription that's billed every 45 days, and includes a new filter and three new aroma kits, which you can customize to your preferences.
All you have to do is sit back and stay hydrated.
If you're ready to experience next-level hydration and all of the healing benefits that come with it, head to Canopy's website now to get started.