Sponsored Content
Air Pollution Is a Fact of Life…So How Do I Fix It?
Living in California means living with fires and pollution. This combo means that the air I'm breathing in on a daily basis is absolute sh*t, but I've always just lived with it. Air pollution is a fact of life.
That said, I've been getting a LOT of ads for air purifiers lately, and it got me thinking. If I can't fix the air outside, I can at least take charge of what I'm breathing in my home. Air purifiers seemed to be the answer, but since I can't see the quality of my air, I was always skeptical of whether or not they actually did anything.
At hundreds of dollars a pop, I wasn't too keen on investing in something that "fixes" my "polluted" indoor air. That is, until I found Sans.
What Is Sans?
Born out of the COVID-19 pandemic, Sans was founded with one clear objective: to make our indoor air cleaner, healthier, and safer. Since then, they've amassed thousands of happy customers and even caught the attention of publications like Forbes and Architectural Digest.
The "meditation quiet" Sans Air Purifier covers up to 1,560 square feet and has a medical-grade HEPA-13 filter. At $369, it costs half the price of other air purifiers on the market, (I'm looking at you, Dyson and Molekule), covers far more square footage, and offers just as many, if not more, perks.
As soon as I saw their 30-day guarantee and industry-leading 5-year warranty, I decided to stop researching and start making decisions – I ordered my Sans, and I haven't looked back since.
So, How Does It Work?
This innovative device employs best-in-class SmartPure™ technology to ensure that the air you breathe is as clean as it can possibly be. The smart-sensing tech features a four step medical-grade filtration system that eliminates a wide range of pollutants, allergens, dust, dander, harmful chemicals, and even odors.
The filter works in four simple steps:
Pre-Filter: captures contaminants you can see, like pet hair and dust. It's hand-cleanable and never needs to be replaced.
HEPA-13 Filter: traps 99.97% of particles, including those even smaller than viruses & bacteria.
Activated Carbon Filter: absorbs odors, chemicals, and gasses we produce while doing things like cooking or using hairspray.
UV-C Light: provides an added layer of protection, deactivating airborne pathogens and microorganisms like mold and bacteria
Each filter has 2200 hours of continuous use (about 3 months). I signed up for the subscription, which means I get 10% off my filter replacements that are delivered to my door every 3 months. The total comes to $35.99, or $39.99 every three months if you decide to buy a la carte.
Alright, now that the *tech* stuff is out of the way, I can get into the fun part.
Opening This Baby Up…
From the beginning, I knew Sans was made for someone like me (aka someone who doesn't want to do a lot of work). Between the unboxing, easy set-up, and filtration auto-pilot, it was a breeze getting my Sans Air Purifier up and running.
Auto Mode for the Win
One of the coolest features about Sans is its use of SmartPure™ technology. The device constantly monitors the air quality in your home, making filtration adjustments in real-time. A lot of reviewers mentioned that their Sans will kick into high gear if there's a sudden change in the air quality, and I can attest. If I'm cooking something smoky or blow out a candle, it audibly changes the intensity of the filtration.
There's a subtle LED display that notes your Air Quality Index throughout the day, and it has touchscreen capabilities to adjust the settings if you'd like. I always switch from auto mode to night mode before bed to make sure that my Sans doesn't amp up while I'm sleeping (although this thing is seriously quiet no matter what mode it's in).
Timeless Design Meets Ultimate Convenience
One of my greatest hesitations in buying an air purifier was the fact that I didn't want a big clunky device taking up space in my bedroom. But Sans looks really sleek and modern, especially compared to other options on the market. The design is super low-profile, and it's compact enough that it fits on a side table or in a small space. Since it's lightweight and portable, I can move it around easily (but with the amount of coverage it provides – 1,560 square feet, to be exact – I don't really need to).
My Life Was Drastically Improved With Sans
When I bought this air purifier, I did so knowing that I could always return it in a month if I didn't think it was worth it. But from the moment I welcomed Sans into my home, I noticed the difference.
I got Sans during peak allergy season, and this purifier turned my home into a zen den, free from dust, pet hair, dander, and airborne chemicals. Though I couldn't see too much of a change in the air itself (these particles are small, after all), I could feel an instant shift in the air quality.
A month in, there is virtually zero dust in my home, and any time I've had one of my famous kitchen disasters, my Sans works overtime to clear my space of any odors.
And maybe the most noticeable benefit — I used to wake up with congestion and dry eyes every day, courtesy of my stubborn allergies. But ever since I brought Sans into my life, it's like those allergies never even existed.
I'm Eating My Skepticism (And Breathing Cleaner Air)
I really didn't think that air purifiers were worth the hype, but Sans proved me wrong. Between the filter's effectiveness and the way the device fits so seamlessly into my home, I only wish I'd taken the plunge sooner. While $369 isn't cheap, per se, I feel good knowing that Sans has a 5-year warranty.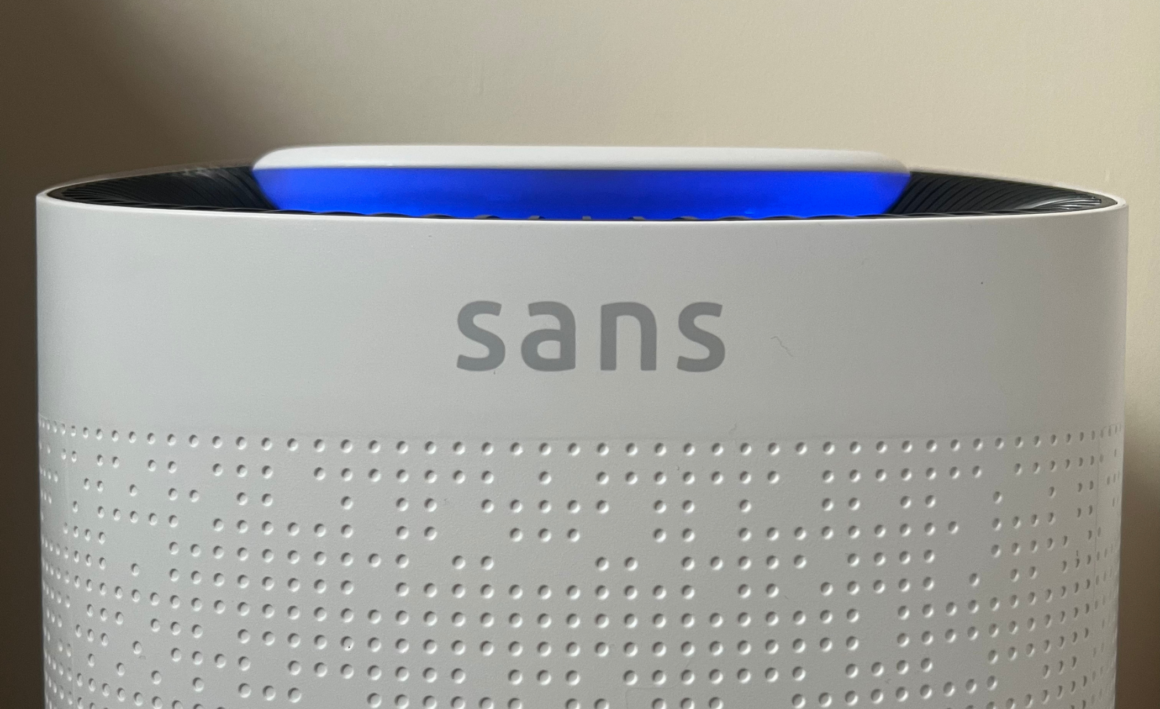 To me, Sans isn't just an air purifier; it's been a complete lifestyle upgrade, ensuring that the air I breathe is cleaner and healthier, day in and day out. I sleep easier knowing that while the world around me grows increasingly polluted, I can at least control the air I'm breathing in my home.
If you're on the fence about Sans, try out their 30-day home trial to feel the Sans difference for yourself.
Don't wait any longer to upgrade to cleaner, healthier air. Step into the brand new era of fresh indoor living with Sans.