Sponsored
A Good Night's Sleep Sets the Mood for the Whole Day.
If you wake up feeling rested and ready to tackle the day, then you definitely got up on the right side of the bed (as the saying goes). But if you start the day feeling tired, uncomfortable or grumpy, you need to take a closer look at your sleep game.
In the spirit of New Year's resolutions, we decided to unlock the secret to getting great sleep this year…and we discovered that the first step toward waking up feeling restored every morning is simpler than you'd think: great bedding. Most importantly, a quality comforter. And let's face it, yours is probably good, but not great.
Shopping for new bedding can be overwhelming because there are soooo many options on the market. With that in mind, we took the guesswork out of the equation by comparing four top-rated bedding brands head-to-head:
Editor's Note: Buffy's best sale of the year has arrived. All of their silky soft, cozy bedding is 20% OFF, but not for long. You can thank me later. 😉
Brooklinen, Boll & Branch, Buffy, or Parachute?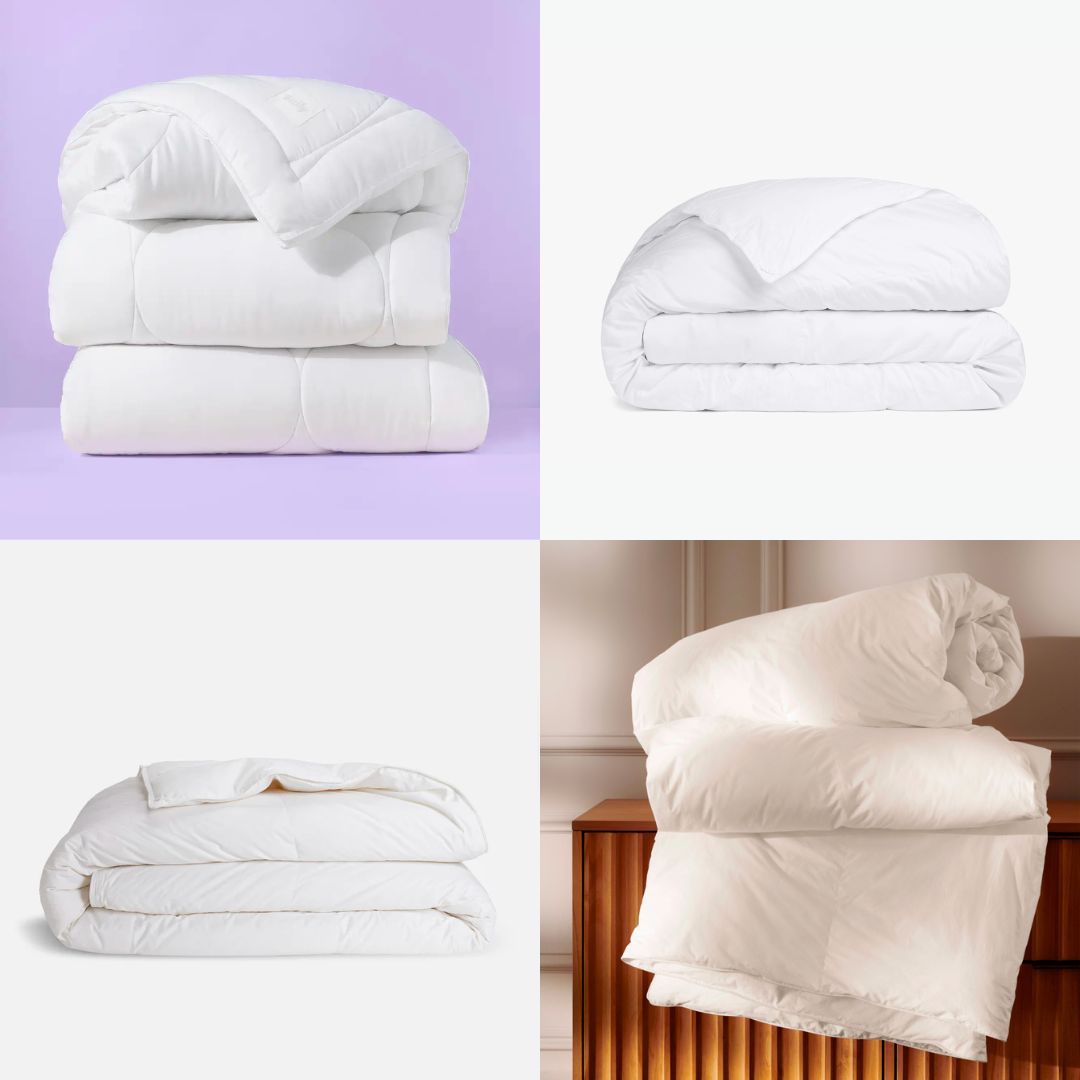 All four brands are famous for their best-selling comforters, but we must admit there's a particular one that kept popping up: Buffy's Cloud Comforter, which has been featured everywhere from HGTV to Architectural Digest.
Boll & Branch, Brooklinen and Parachute offer three different density options, while Buffy focuses on a one-size-fits-all approach. We tested out the midweight and all-season options for the first three brands, since they're the most popular. The comforters themselves had a few noticeable differences, so we broke them down into four essential categories to help you decide which option is right for you:
Comfort + Temperature Regulation
Materials
Shipping + Return Policies
Quality for Price
Now without further ado, let's get into the battle of the bedding.
Category #1: Comfort + Temperature Regulation
You spend 1/3 of your life in bed, so it should be the most comfortable place in your home. But, comfort involves a lot of personal preference. Whether you sleep hot or cool, these comforters are made with the finest materials and designed to support all sleep temperatures (although according to the Sleep Foundation, sleeping cool is key for better quality sleep).
The Brooklinen All-Season Down Comforter falls on the warmer side since it's packed with feather down—and the cotton shell is not the most breathable material out there. The hot sleepers on our team found that they woke up warm on occasion and had a hard time cooling off afterward. On the other hand, the cool sleepers said they appreciated the comforter's warmth, especially during the winter months.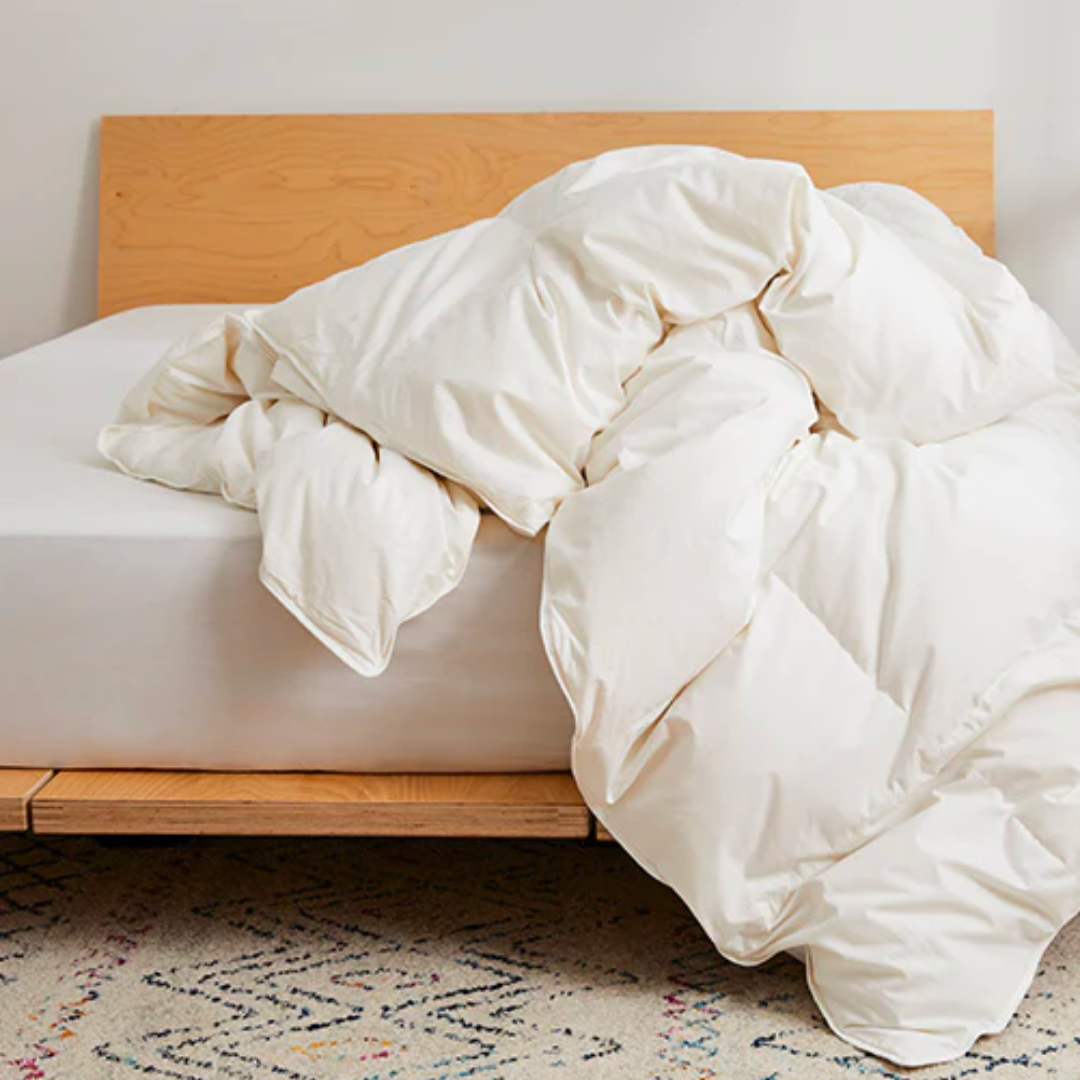 The Boll & Branch Midweight Down Duvet Insert is soft, temperature-controlled, and fluffy. It's designed for the 'comfortable sleeper' or a moderate climate. Since this option is filled with feather down, it's not the best for hot sleepers or the summertime. If you're a cooler sleeper who loves a fluffy comforter and you don't mind the luxury price tag (more on that later), this option may be right for you.
The Strategist describes Buffy's internet-famous Cloud Comforter as "sleeping under a pile of cotton candy," and after testing it out ourselves, we have to agree. It hits the sweet spot between soft and fluffy, but cool to the touch, lightweight, and breathable enough for year-round comfort. If you're looking for a comforter that does it all, this is the option for you.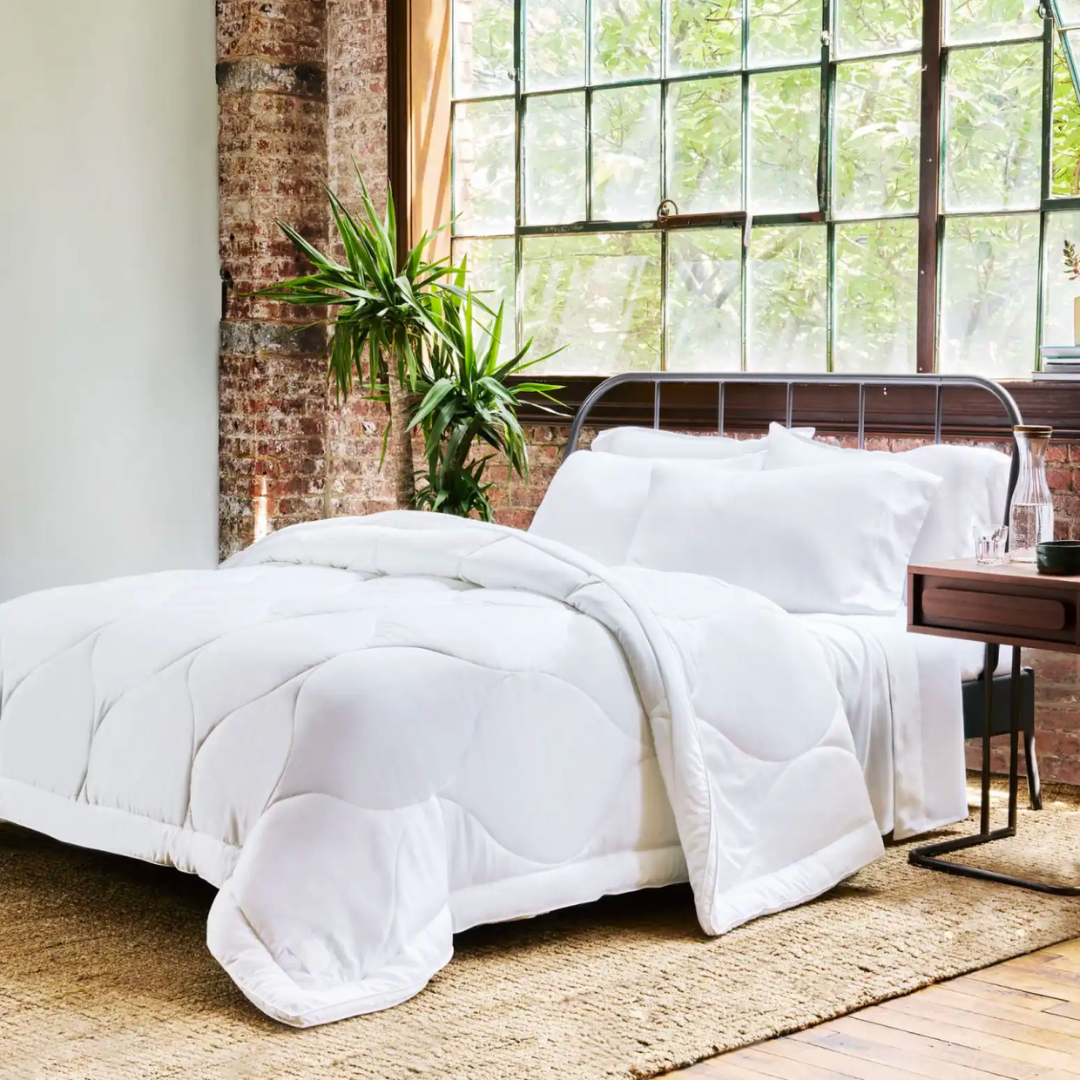 Parachute is known for its sleek look and feel, and high quality standards. The overall consensus on the Down Duvet Insert is that it's light, yet warm and fluffy, comfortable, well-made, and doesn't flatten down super easily. If you tend to sleep hot this may not be the best suited for you, but it's great in the winter.
Our Final Temperature Regulation Ranking:
Brooklinen: 8/10
Boll & Branch: 9/10
Buffy: 9.5/10
Parachute: 7/10
The Winner: Buffy
Each comforter has its pros and cons, depending on the season and what type of sleeper you are. However, because of its year-round functionality and maximum breathability without sacrificing fluffiness, Buffy edges out the competition.
Category #2: Materials
All four of these brands have ethical manufacturing practices and responsibly source their materials, but each comforter is made with different materials inside and out.
Parachute's Down Duvet Insert has a 100% sateen cotton shell and is made up of all-natural down and feather fibers, which are Responsible Down Standard certified to ensure the supply comes from humanely treated ducks and geese.
The Boll & Branch Down Duvet Insert features a 100% organic cotton duvet shell made without the use of any harmful pesticides, GMOs or toxins. Their down is ethically sourced from cruelty-free farms in the U.S. that monitor each step of the product cycle–from farm to finish–meeting the highest standards of quality and animal wellfare.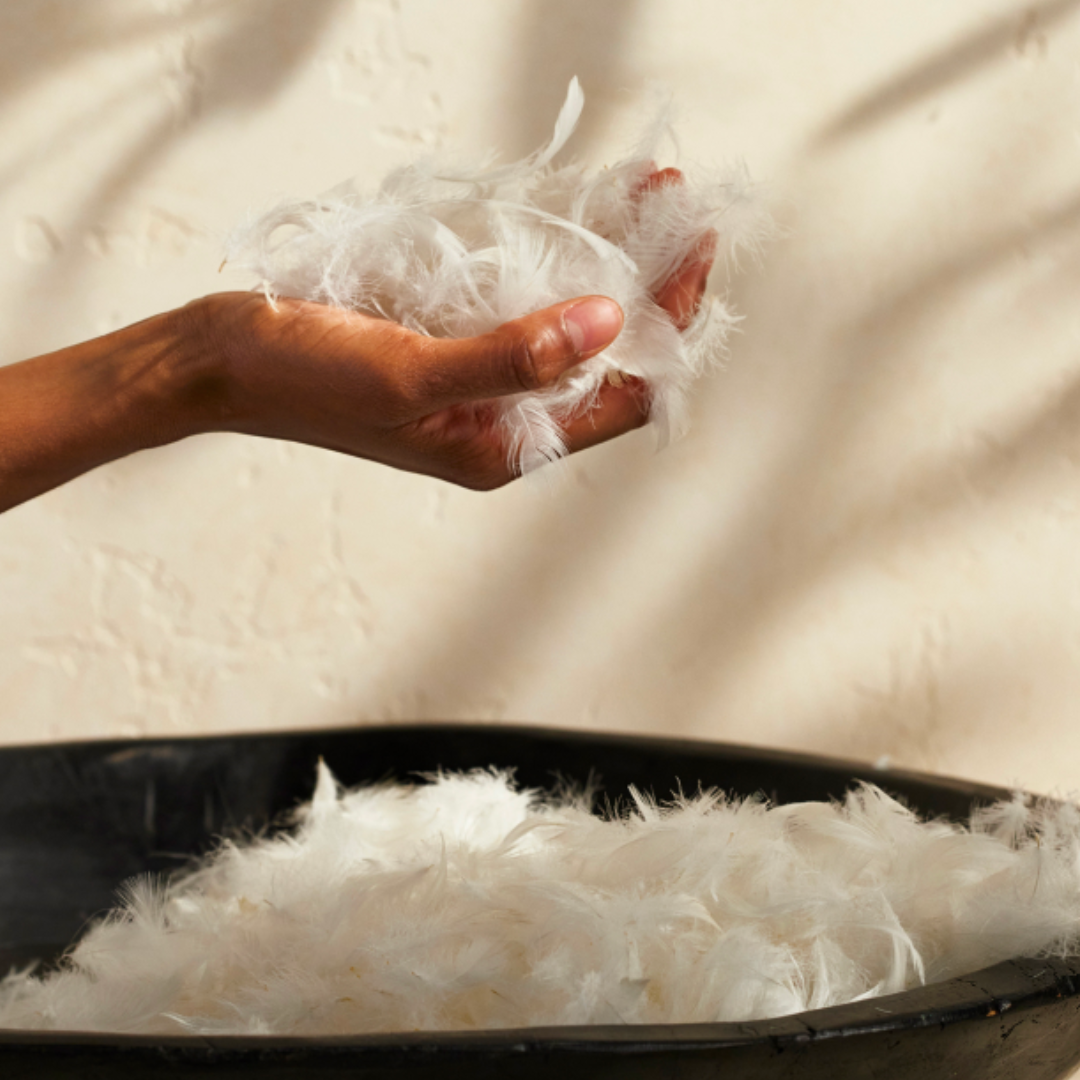 Brooklinen's Down Comforter is also made with an ultra-soft 100% cotton sateen shell and is filled with ethically and sustainably sourced duck and geese feathers to provide warmth and insulation. This comforter is treated with antimicrobials and is hypoallergenic.
Buffy's Cloud Comforter features a shell woven from breathable Eucalyptus TENCEL™ Lyocell, which requires 76% less water to produce than conventional cotton and absorbs moisture more efficiently to keep you cool and dry. The proprietary fabric is antimicrobial, hypoallergenic, and grown without pesticides.
As for the fill, Buffy's 100% vegan fill is made from recycled plastic bottles, making it much lighter and fluffier than down-filled alternatives (plus, no feathers poking out).
Our Final Material Ranking:
Brooklinen: 7/10
Boll & Branch: 8/10
Buffy: 10/10
Parachute: 8/10
The Winner: Buffy
Brooklinen, Parachute, and Boll & Branch are all made with cotton and animal feather down, while Buffy uses breathable eucalyptus and a vegan, earth-friendly down alternative. If you're looking for an option that's extremely fluffy, eco-friendly, and made without animal products, we'd suggest Buffy.
Category #3: Shipping + Return Policies
This was the category we were most surprised by. Each of the four brands has a wildly different policy for shipping and returns…
Parachute accepts returns within 60 days of delivery. They ship within the U.S. and offer free returns, though shipping and handling fees are nonrefundable.
All of Brooklinen's core products can be returned or exchanged within 365 days. They'll also pay for the return shipping if you're in the U.S.
Buffy has an at-home trial that lets you experience their bedding free for a full week before you commit to buying. A temporary hold is placed on your card, but you'll only be charged when the trial ends. On top of that, they offer a 100 night return policy and free shipping and returns throughout the U.S.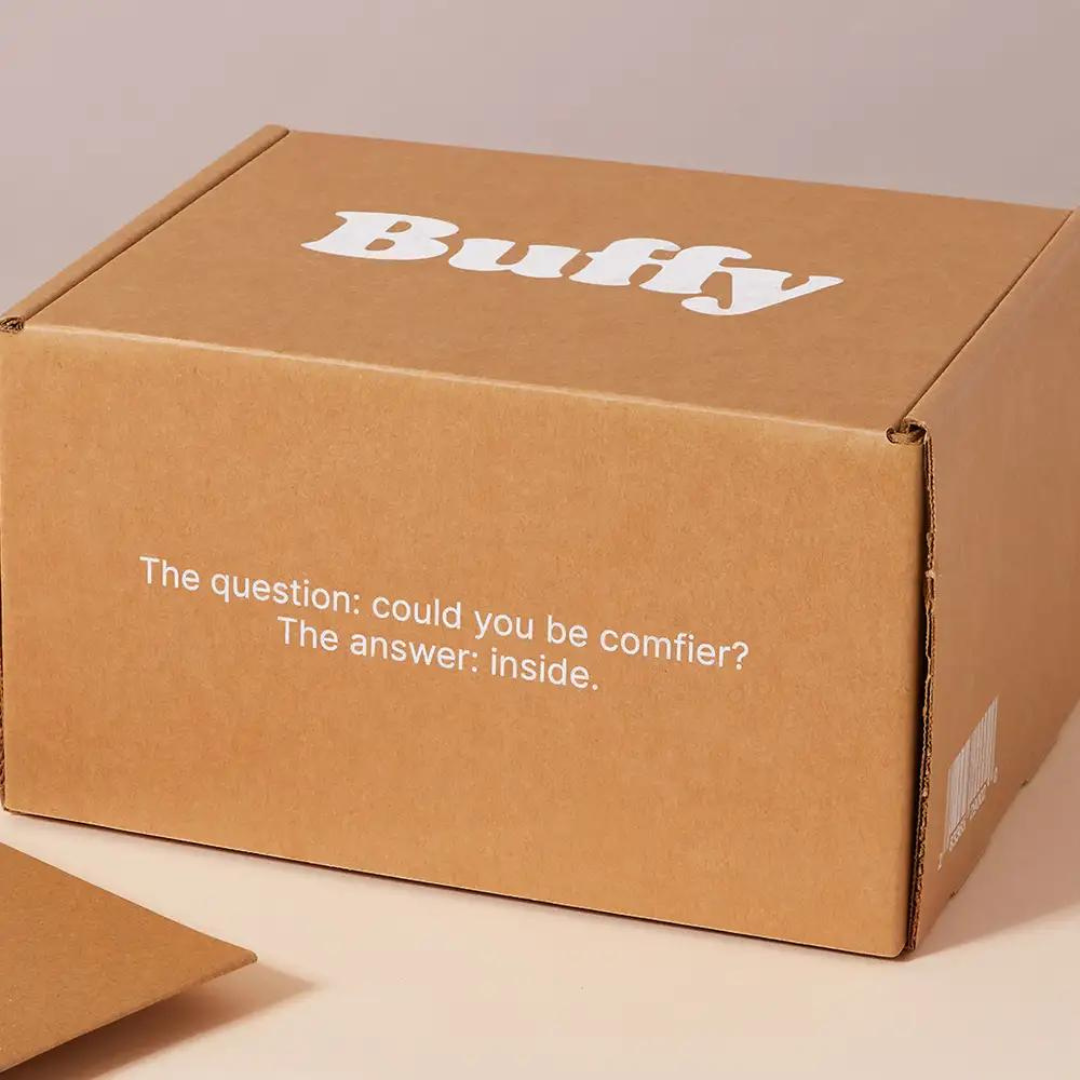 Boll & Branch offers complimentary domestic US ground shipping and returns are accepted within 30 days of delivery.
Our Final Return Policy Ranking:
Brooklinen: 9.5/10
Boll & Branch: 7/10
Buffy: 9/10
Parachute: 8/10
The Winner: Brooklinen
As return policies go, Boll & Branch and Parachute both left something to be desired with 30 and 60 day returns. And although Buffy is the only brand that offers a trial period in addition to a return policy, it's tough to beat Brooklinen's year-long return policy.
Category #4: Quality for Price
When we're talking about comfort, sometimes a splurge is worth it. Other times, you can get quality products at a reasonable price…and much like the shipping and returns policies, these four brands all have very different prices.
The $458-$518 price tag of the Boll & Branch Midweight Down Duvet made our eyes water. At such a premium price point, you'd expect amazing sleep, and while it may be true for customers who love the brand, we couldn't find substantial evidence (or something that the other comforters don't offer) that explains the price.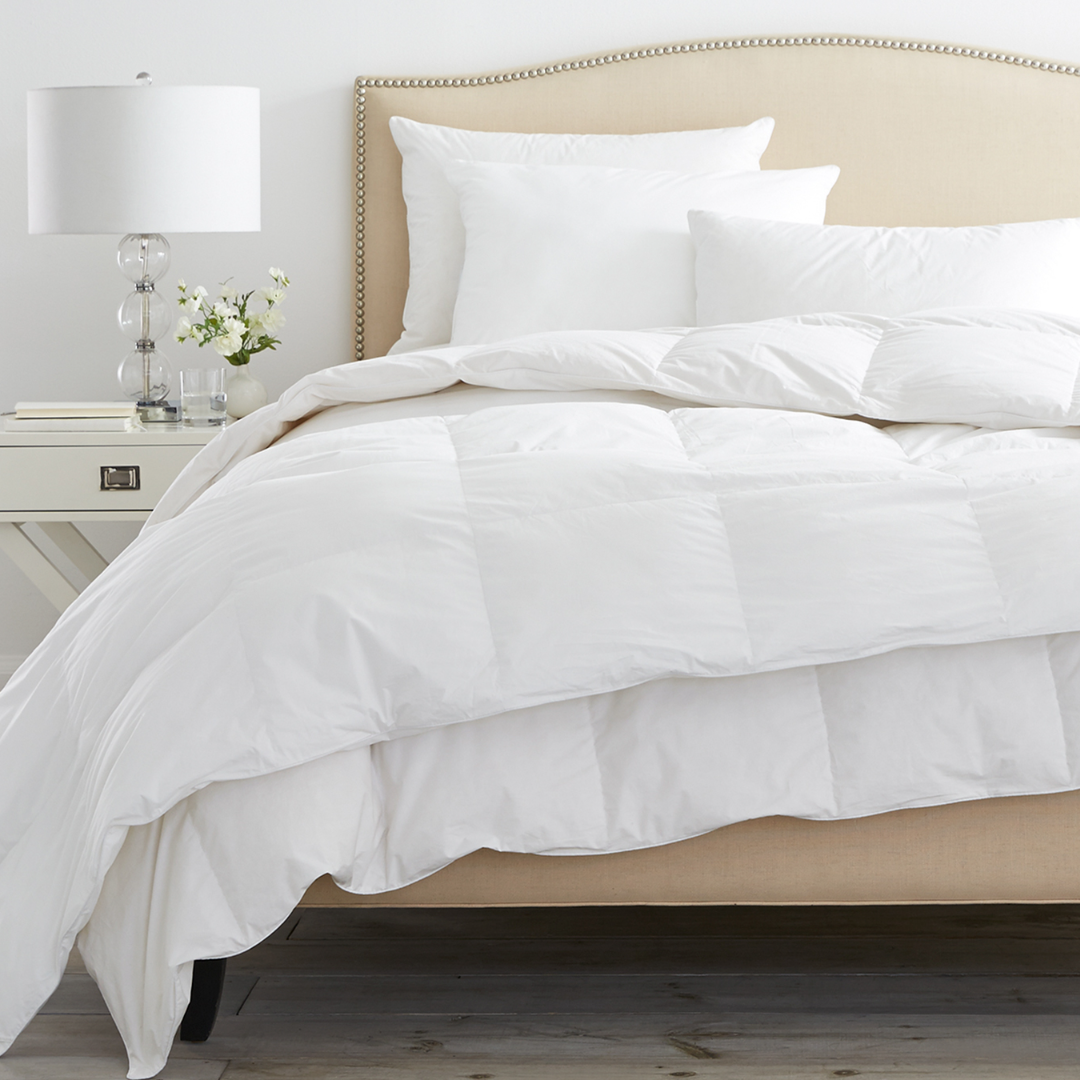 Conversely, with prices ranging from $149 to $249 depending on the size, Buffy's Cloud Comforter is the most competitively priced option of the bunch—and from our experience, the quality is almost unreal for the price. Plus with the free 7-night sleep trial, there's no financial investment here unless you decide to keep it.
Brooklinen's Down Duvet starts at $259 for a twin bed and goes up to $479 for the king. Brooklinen is the second most affordable option after Buffy. Although the quality you're getting for the price is good, we'd argue that Buffy's Cloud Comforter offers better quality for a lower price.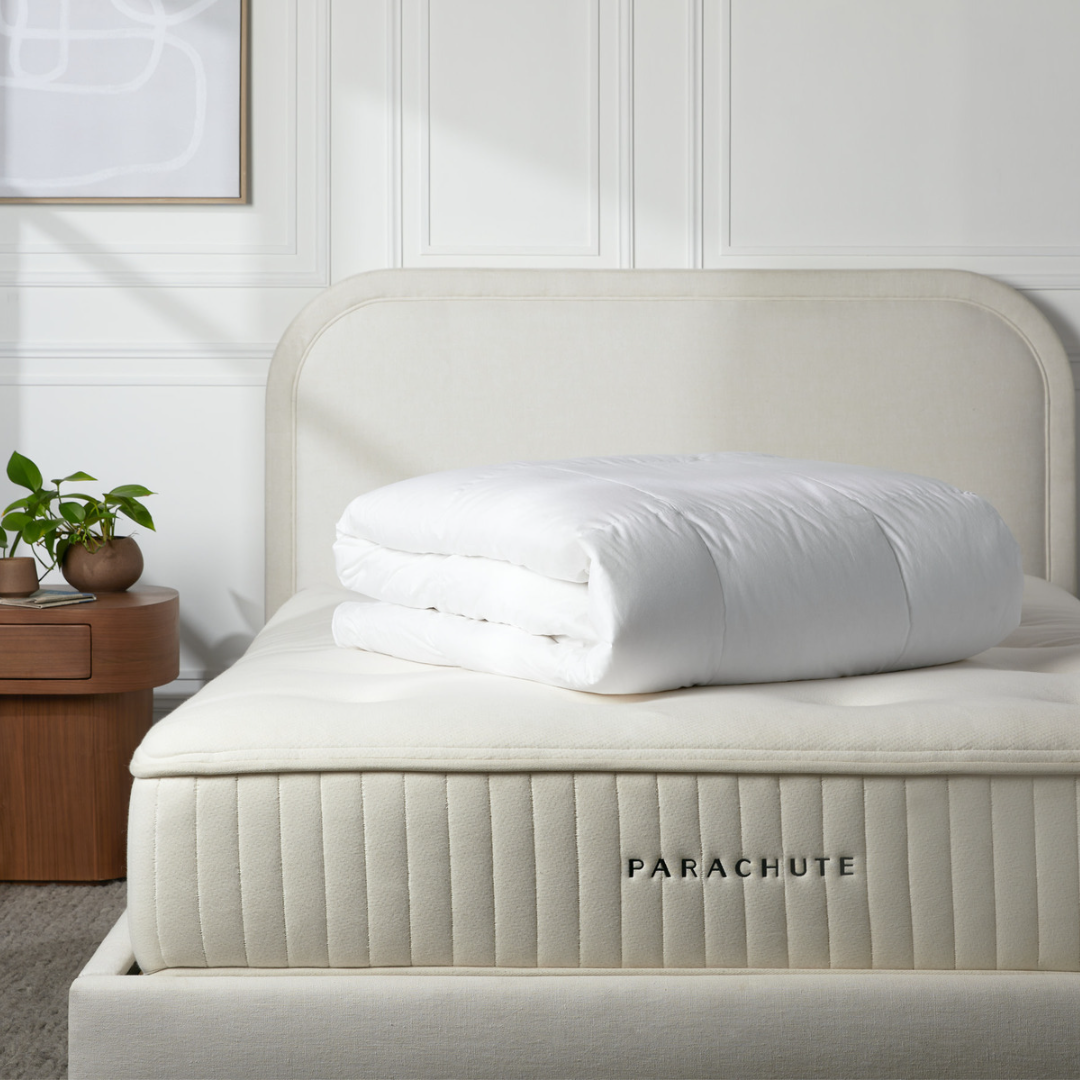 A twin-sized All-Season Down Duvet Insert from Parachute begins at $339 and goes up to a whopping $529 for a king-sized comforter—which is about on par with Boll & Branch's pricing. While the Parachute comforter is undeniably high-quality, we simply can't justify spending that much on a comforter.
Our Final Price Ranking:
Brooklinen: 7.5/10
Boll & Branch: 6/10
Buffy: 9/10
Parachute: 6/10
The Winner: Buffy
Just because something is more expensive doesn't mean that it's better. It just costs more. When it comes to quality for price, Buffy's Cloud Comforter is by far the most affordable option—with their $199 queen-sized comforter stacking up at $75 less than Brooklinen's, $240 less than Parachute's, and $259 less than Boll & Branch's.
And The Overall Winner Is (Drumroll, Please)…Buffy
Now that we've taken a closer look at all four bedding brands and their best-selling comforters, you should have a better idea of which one suits your style and preferences.
Based on our testing and research, we're naming Buffy's Cloud Comforter the overall winner because it's magically fluffy, lightweight, and cozy like a hug after a long day. The Cloud Comforter offers year-round comfort and it's the perfect option for any type of sleeper because it's engineered to work with any body temperature. Plus, it's made with sustainable, planet-friendly materials and it's available at an accessible price point.
Across the board, Buffy exceeded our expectations.
If you're looking for a comforter that blows the competition out of the water, we couldn't recommend the Buffy Cloud Comforter more.