The Get Well is reader-supported. When you buy through the links on our site, we may earn a commission.
I Thought Red Light Therapy Was a Gift Straight From Heaven…Until I Saw the Bill.
If you haven't heard of red light therapy before, here's a brief crash course: It was invented by NASA, and it's grown exponentially in recent years after being extensively clinically-studied by researchers and doctors for its skin-rejuvenating and anti-aging benefits.
I started getting treatments at my dermatologist's office a few years back after learning that red light therapy can help reduce the appearance of fine lines, fade scarring, and improve facial texture, amongst many other benefits. After a few sessions, it was working actual wonders to reduce the appearance of my fine lines and inflammation, but I just couldn't keep up with the cost (I'm talking thousands).
Recently I've been getting hit with tons of targeted ads for personal red light therapy devices that save you from the hassle and money of professional treatments. And they definitely hit their target, because before I knew it I was doing some serious research into the best devices out there. And after my hard work, I finally narrowed it down to two top-rated, award-winning devices: the Omnilux Contour Face Mask and the Solawave Radiant Renewal Skincare Wand.
They're pretty different, but they each have 30 day return policies, so I decided to just test them out for 3 weeks each to find the right choice for me. I was a bit biased towards the Omnilux mask going in, because it's been around for longer and covers your whole face… but I was secretly rooting for Solawave because it's so much more affordable.
Omnilux vs. Solawave: What You Need to Know
These were the last two standing mainly because they're both safe for all skin types, noninvasive, clinically-tested, dermatologist-backed, and they have some unreal before and after photos and customer testimonials on their websites.
Omnilux started making medical-grade red light therapy technology in 2003, originally at a Cancer Institute to treat non-melanoma skin cancers. They came out with the Omnilux Contour shortly afterward, bringing high-tech red light therapy to peoples' homes in a 10-minute treatment. The mask does make you look like a supervillain, but the tech definitely checks out.
Solawave, on the other hand, broke into the scene in 2020. But with 13 major awards from publications like Harper's Bazaar and Men's Health, hundreds of features in publications like Vogue and Forbes, and an impressive list of celebrity users… that seems hard to believe. In just a short amount of time, they've become a leading skincare brand and made a name for their wand as a "skincare swiss army knife" that packs 4 technologies into 1 (which means you get more than just red light therapy).
So in the battle of better skin, here's how the two stack up in four main categories.
1. Price: Solawave
Price was the main reason I started looking into these devices in the first place. I wanted something that had enough red light therapy to actually work—without breaking the bank. Omnilux comes in steeper at $395, and the mask uses solely red light to give you "firmer, more youthful-looking skin" and an "effortless glow."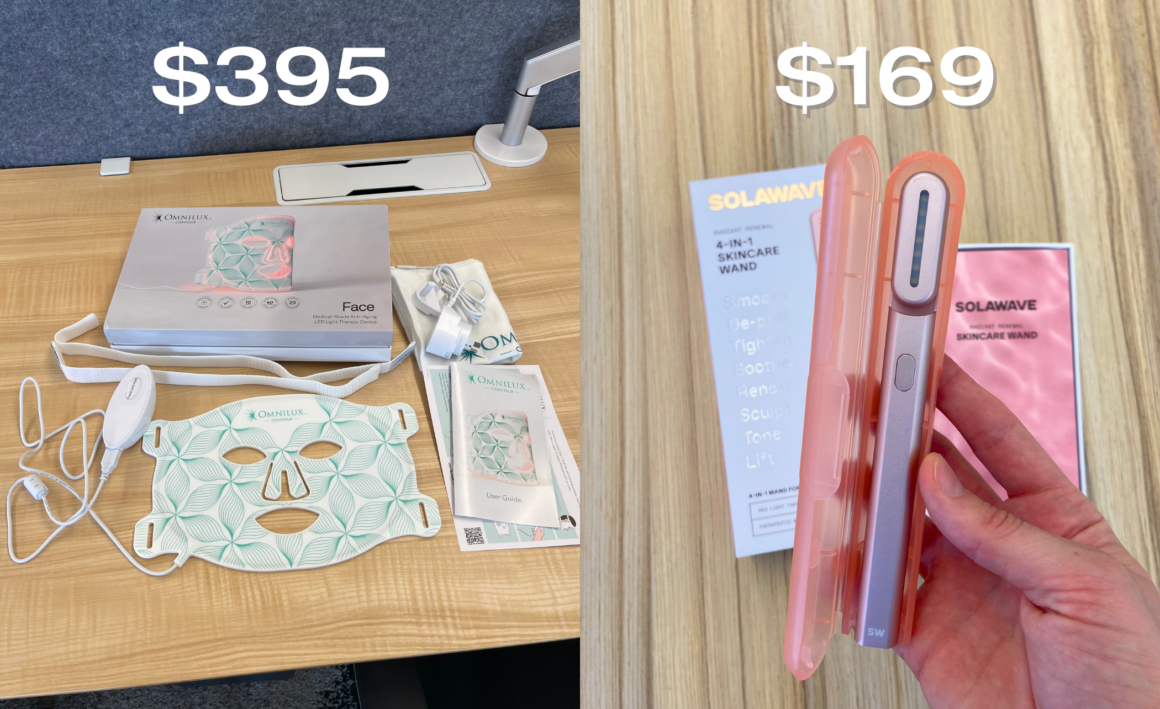 Solawave, though, comes in at much-more-doable $169 (or $189 with the brand's serum). Red light technology is the main component of the wand, but it also packs the powers of galvanic current, therapeutic warmth, and a gentle vibration to make it a 4-in-1 powerhouse. They claim that it "helps smooth fine lines, reduces the appearances of blemishes, and rejuvenates the skin for a glowing, radiant appearance." Because of the multi-technology, the wand can also help to depuff, increase the absorption of topicals, and reduce the appearance of dark circles.
At less than half the price, Solawave's product claims to do a lot more. For something that's much more affordable, the versatility of the wand really stands out compared to the Omnilux mask.
2. Experience: Solawave
When I said the Omnilux makes you look like a supervillain, I wasn't kidding. It contours around your whole face, and you're supposed to leave it on for 10 minutes at a time, 3-5 times per week. It felt pretty relaxing once I was able to wrangle my face into all of the straps, but the lights around my eyes were so bright I had to lie down with my eyes closed during the treatment. I know if I weren't doing this experiment, I would have had trouble keeping up with a consistent routine.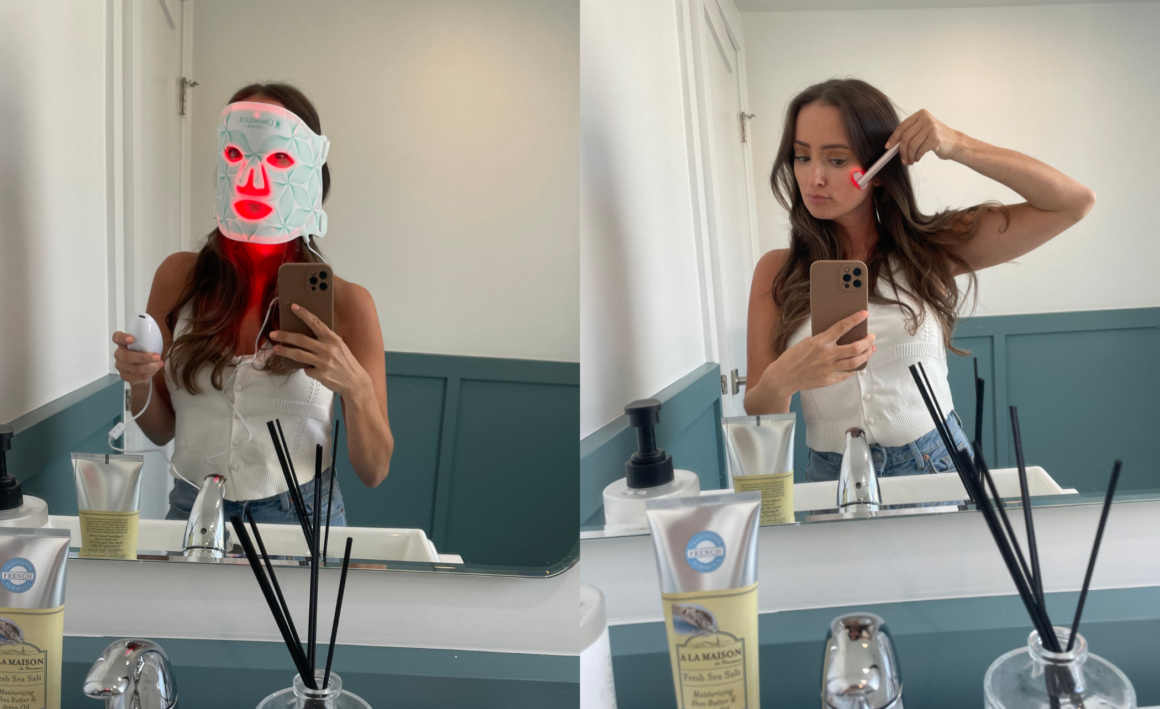 The Solawave wand was easier to fit into my routine, by comparison. All I had to do was apply a hydrating serum and run the wand in long strokes across my face for 3 minutes, 3-5 times a week. The warmth and vibration made the experience much more pleasant than the mask. It felt like a massage and the de-puffing was so effective, I was actually excited to use it in the mornings. Plus, on days when I used the Solawave wand, it felt like my skincare products absorbed better, which helped my makeup go on smoother.
When it comes to the experience, the Solawave wand offers a much more fun and relaxing experience. I can feel it working as I glide the wand over my face, and I can see my face de-puffing as I'm using it. I'm able to truly multi-task while using it, whether that's watching a show, reading a book, or riding in a car. I love that it's so small that I can take it on vacation, so I don't have to take any days off in my routine (bonus points for the included travel case).
3. Power: Omnilux
Turns out the supervillain mask comes with more light therapy superpowers. The Omnilux mask packs 66 LED bulbs, while the Solawave wand uses 7 dual-core LEDs. Even though Solawave's new wand has more than twice the original wand's red light therapy power, the Omnilux packs more of a punch.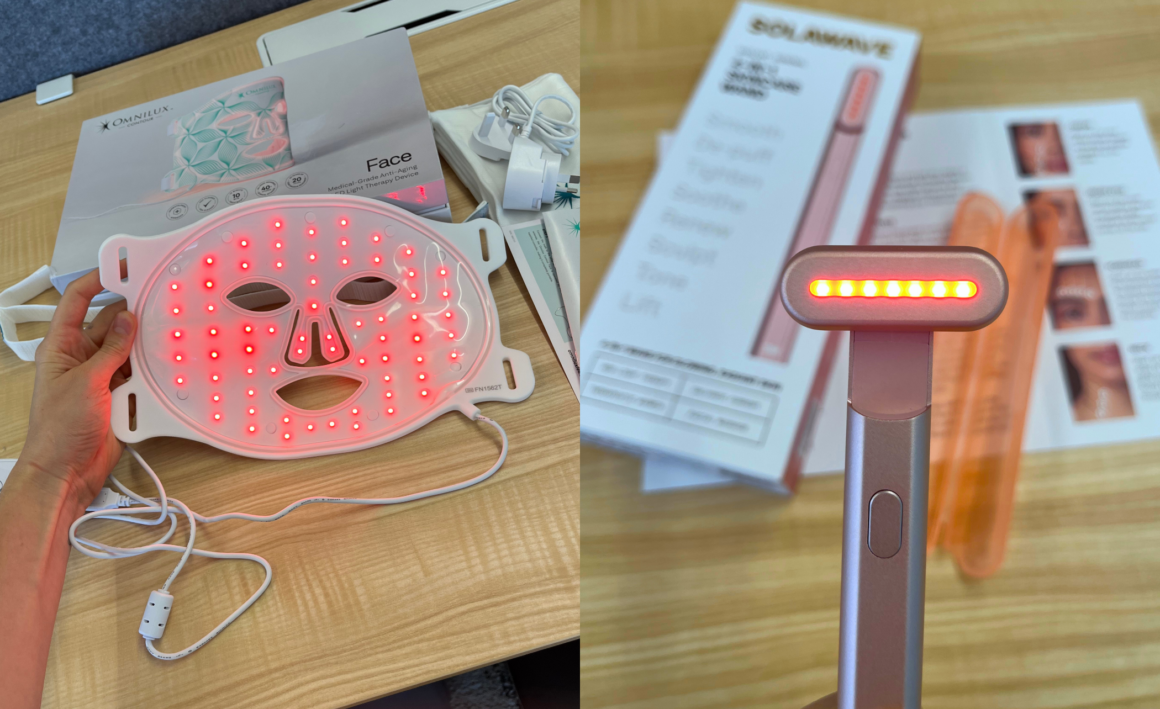 Considering red light is all the Omnilux does, it makes sense that it's got the clear edge over Solawave in terms of red light power. With red light therapy, higher wattage leads to faster acting benefits of the tech—which is why Omnilux says you only need to use it 3-5 times for 4-6 weeks and then as-needed for maintenance.
With the Solawave wand, the effects really start to build over time… so using it consistently is the best way to reap all the benefits. The power of the wand's versatility, though, is worth noting. I was doing my red light treatment, depuffing, stimulating, and reinvigorating all in one palm-sized tool.
4. Results: Solawave
I tried Solawave first, and I could immediately see the effects of the galvanic current and facial massage, which started me out on a good foot. Using it consistently over the 3 weeks, I started to see a decrease in the appearance of my 11s, and my skin overall started to look more glowy and bouncy.
The Omnilux mask definitely carried on what the Solawave wand started in terms of reducing the appearance of my wrinkles and fine lines. But I missed the real-time benefits and the feel of the wand so much, I almost broke my commitment to the trial.
When you really weigh it all together, the Solawave wand just offers more in terms of a variety of benefits. You get the amazing effect of the red light therapy over time while also having an instant-result boost in facial glow and visible firming for date nights, office days, or anything in between. For me personally, it was sort of a no-brainer.
Ultimately It Comes Down to What You're Looking For
If you're looking specifically for red light therapy only and want a super-high-powered device that's effective but costly, and it's within your budget, you can't go wrong with the Omnilux mask. If I could afford it, I'd actually buy both. But your girl is on a journalist's budget and I need to make sure I can make rent each month.
If you're looking for a red light device that not only has long-term and short-term effects, but is easy to use, multi-purpose, super portable, feels amazing, effortlessly mixes in to your skincare routine, increases the effectiveness of your other products… and is super affordable, I'd suggest the Solawave wand. This was the obvious option for me, but everyone's skin is different and I'd say always do what's best for your budget and your skincare goals.
Solawave's "magic wand" really made me feel like red light therapy was a miracle again. It's affordable and effective, and now I couldn't imagine living without that Solawave glow. If you're just starting to look into red light devices, I couldn't recommend Solawave more.
Editor's Note: Solawave very recently started making their own full-sized, red light face mask, too. Theirs is unique in that it has 3 different treatments: Red Light Therapy, Blue Light Therapy, and Combo. The Blue Light option eliminates acne-causing bacteria. I'll be giving that a test next to see how it complements with the wand.