Sponsored
Three Things in Life Are Certain: Death, Taxes, and Dry Skin in the Winter
At least with sensitive skin like mine, that is. I go full-blown reptilian every winter, and nothing I've tried ever made a difference: the moisturizer right out of the shower, the gentle cleanser, the humidifier next to my bed, the painfully cold, short showers. Ultimately, it felt like I was whistling into the skin-drying wind.
After a particularly agonizing bout of dry skin a few weeks ago, my dermatologist suggested I try repairing my skin barrier from the inside out with light therapy and microcurrent.
I didn't know too much about those things, but I did know they sounded expensive (and I've got taxes to pay…) Thankfully, she suggested an alternative to pricey treatment sessions: an affordable skincare wand from Solawave that has worked wonders for some of her other clients.
If calling it my "skincare savior" hasn't given it away, let me say: this thing was just what I needed to finally conquer my dry skin. But as much as it felt like magic, turns out, it's just science. Let me give you the low-down.
Solawave: the "Ultimate At-Home Spa Facial"
Skincare is an individual process. It takes real trial and error to know what works specifically for your skin, and the of finding the right products is exhausting. But what's so exciting about technologies like microcurrent and red light therapy is that they work almost universally to improve and strengthen the skin from the inside out.
That's why Solawave is quickly becoming a staple for so many people (including makeup artists who prep celebrities like Jennifer Coolidge, Reese Witherspoon, Emma Chamberlain, and Doja Cat for awards ceremonies). The compact, affordable wand combines four different technologies that have been clinically proven to work on all skin types—and my favorite part is that I can use it right at home.
It's like an indefinite all-access pass to professional skincare treatments every day, and it's only $149. A lot of my dermatologist's clients were using it for anti-aging, but it turns out a daily "spa facial" is great for dry skin too…
Multiple Technologies, Multiple Benefits
The razor-sized, 4-in-1 device combines the light therapy and microcurrent technologies my dermatologist suggested with therapeutic warmth and a gentle facial massage. I learned that the red light decreases inflammation and redness by stimulating skin cell growth. The microcurrent delivers an electrical "workout" to the face muscles, stimulating and tightening the skin.
When these two work in tandem, they stimulate collagen production, heal the skin from the inside out, and strengthen the skin barrier. For me, it's been like a shield to the cold, dry air. The therapeutic warmth helps my face absorb other skin care products, and as a bonus, the facial massage depuffs my face similar to a gua sha.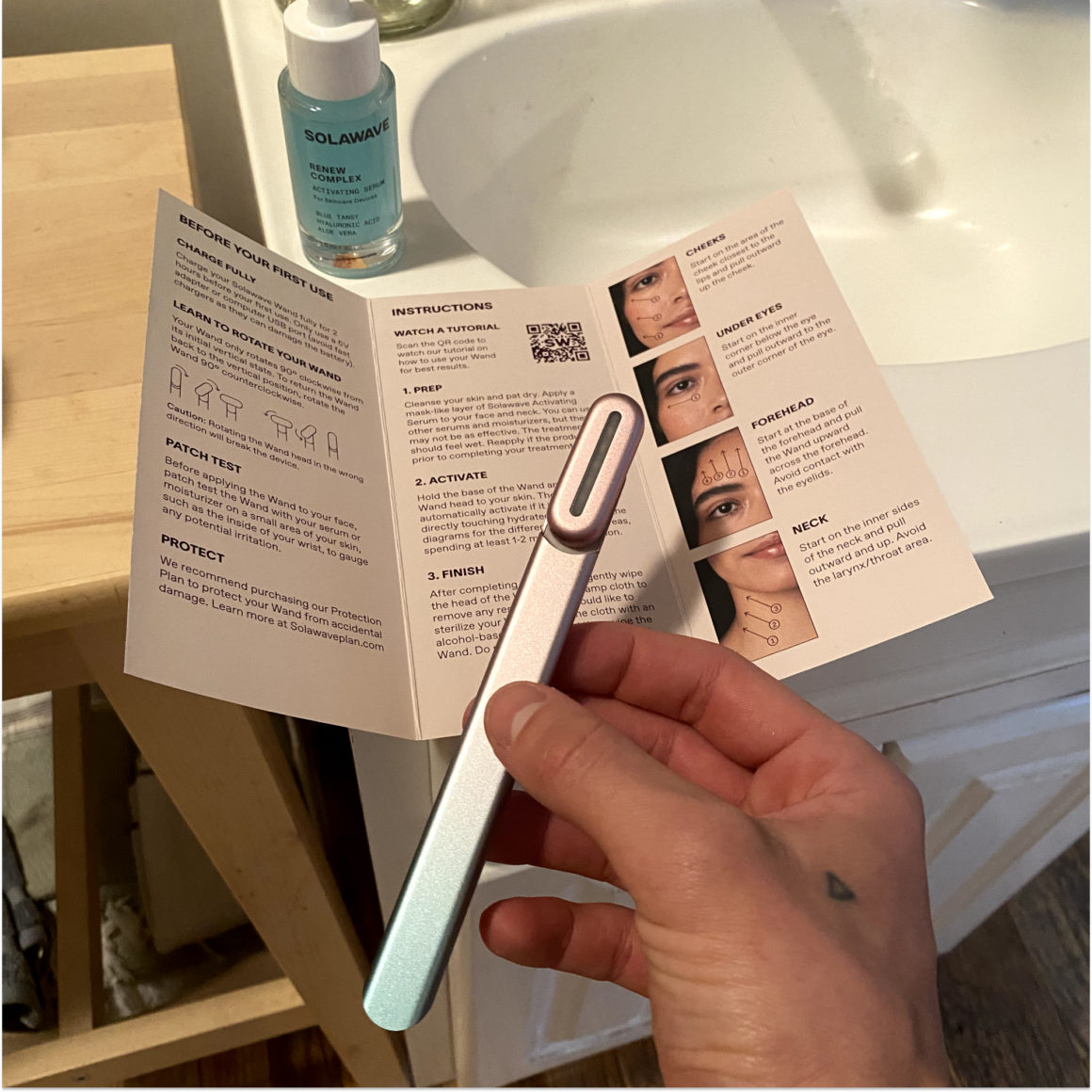 My Advanced Skincare Wand heals, primes, soothes, and decompresses my face in one fell swoop, so I'm getting results from the wand and better results from my other products. (Win-win.) It's also non-invasive and chemical-free so it doesn't irritate my sensitive skin. (Win-win-win.)
My New Favorite Part of My Routine
When I first got my Solawave wand, it was super easy to use and even easier to add into my routine. I'll walk you through it to give you a better idea:
In the mornings, I shower (but not too hot, sigh…) and wash my face with my Kiehl's gentle face cleanser.
I dry off my face and apply Solawave's hydrating serum with aloe and blue tansy. It helps the wand glide, plus it helps to lock in that crucial moisture against the winter dryness.
Then comes the wand: it turns on automatically when it touches hydrated skin, which is both very cool and user-friendly. The head also rotates 90º so I can reach tougher spots like under my eyes with ease.
I glide the wand across my face with slow, consistent strokes for the recommended 5 minutes, working in sections. The microcurrent helps the hydrating serum penetrate deeper into my skin, and the warmth and vibration just feel really nice.
Then, I apply my favorite 30 SPF moisturizer from La Roche-Posay and I'm good to go! With the wand I can use both fewer products and a lesser amount of those products.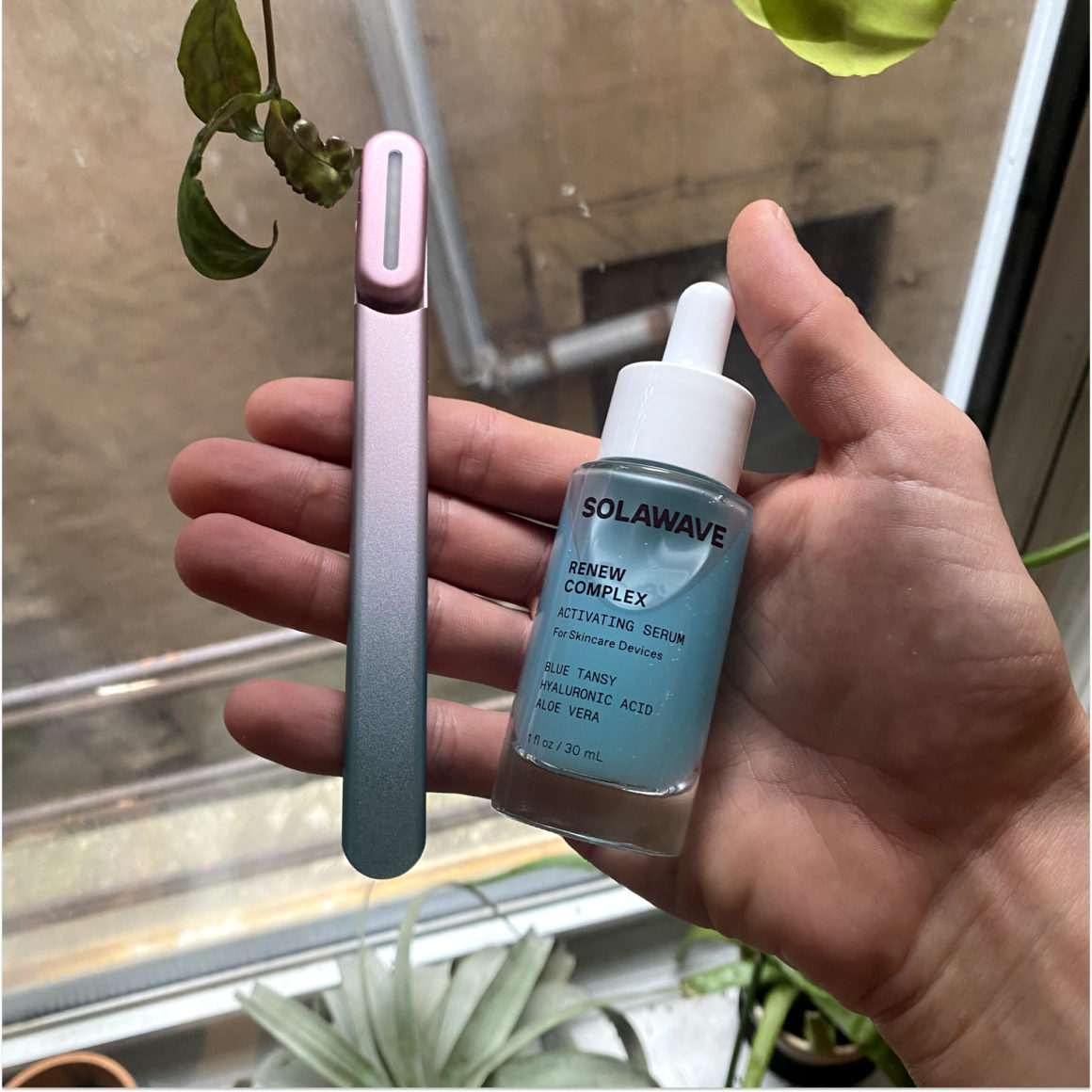 My Biggest Takeaways
The first time I used this baby, my skin looked and felt plump and hydrated from soaking up the serum. And it basically stayed that way throughout the day, even in the bitter New York winter. I started to notice an improvement in my overall skin quality after about two weeks—the dryness and sensitivity faded away.
I went into this journey for my dry skin, but I came out of it with the added benefits of the different technologies: my face is more toned, my skin smoothed out, and my skin tone evened out, too. The fact that this portable miracle-worker is so inexpensive still blows me away. Solawave was spot on when they called it the "ultimate at-home spa facial."
Although the Advanced Skincare Wand has worked its magic on my dry winter skin, it doesn't lose its magic the rest of the year. This thing gave my skin a major glow-up (literally) and I'll be reaping the benefits all year long.
Three Things in Life Are Now Certain: Death, Taxes, and Using My Solawave Wand Everyday
Seriously, the only thing that might trump my love for Solawave now is my love for my dermatologist who recommended it. This wand has really been my dry skin savior this winter. I can't even tell you how relieved I am to not have to lug around that huge tub of Aquaphor anymore.
The wand's benefits extend far beyond just dry skin, so whether you're desperate for hydration like I was or just looking to improve your skin quality and health overall, I can't recommend the Advanced Skincare Wand enough. Solawave even has a 30-day return policy so you can try it out for yourself with no pressure!
The winter doldrums are hard enough on their own. Don't let dry skin add insult to injury: stay radiant and hydrated this winter with Solawave's 4-in-1 skincare savior.